Latest News
The Ultimate Guide to Prepping Your Hair the Right Way
The Ultimate Guide to Prepping Your Hair the Right Way
Your hair is your greatest accessory. It can easily draw attention even in a large crowd. So, as leading barbers South Kensington, we always educate our clients on the importance of having a good hair care and hairstyling routine. Using good products on your hair regularly can prevent damage and help you maintain healthy and good-looking hair. The good news is, it's not difficult to follow a good haircare routine once you adopt it as a habit. It consists of a few easy steps that wouldn't take a lot of time.
However, in the beginning, you would have to visit your best barber Fulham, have a great haircut, and learn how to keep it in good shape. Thereafter, all you have to do is maintain it properly. In this article, we are going to walk you through 4 basic steps of any hair care and styling routine, along with some great product recommendations from Pall Mall Barbers London Bridge!

1. Shampoo
The argan shampoo, as per the best Chelsea barber is meant to cleanse your hair and scalp thoroughly, washing away any dirt and hairstyling product that you have worn during the day. However, we, Barbers Earls Court don't advise using shampoo every day as it can do more harm than good. It will strip the natural oils that your scalp produces, thereby leaving your hair and scalp too dry.
Hair can become brittle and extremely damaged as well. You might also find your scalp to be flaky and itchy because of this. Ideally, we at best barbers Fulham recommend using shampoo no more than thrice a week. On other days, you can simply wash your hair without shampoo. It's also important to find a good shampoo that works for you very well and addresses your haircare needs effectively.
Want a pro tip from the best barber Chelsea? Stay off harsh chemicals and look for ingredients that are renowned to nourish dry hair, promote growth, reduce hair fall, etc. If you need some good argan shampoo recommendations from the best barbers South Kensington, don't worry. Pall Mall Barbers Fulham haircare range has two amazing shampoos that are loved by all our clients for their efficacy.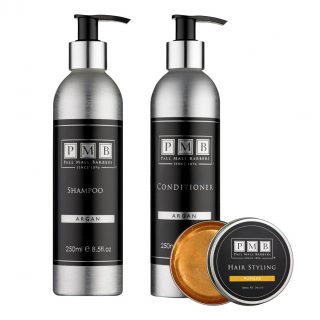 Argon Enriched Shampoo for Men by Pall Mall Barbers
Did you know that argon oil is famed for revitalizing hair? Argon oil contains many effective antioxidants like vitamin E that are renowned to repair and nourish hair. It is used in many haircare and skincare products at present due to its powerful properties. Using an argon-infused shampoo, according to the best Chelsea barber, can restore moisture in your hair and keep it looking hydrated. It is also responsible for maintaining a healthy scalp, and you will definitely notice that your scalp is less itchy with the continued use of our shampoo.
Although not backed by research, argon oil has benefited people battling hair breakage and hair loss. Barbers Earls Court also recommends argon-infused shampoos to prevent hair damage caused by hair styling products.
Want sleek and healthy-looking hair? Want to get rid of damaged hair and split ends? As recommended by Kings Road barbers, this is the best product you can get in the market for it! It is available at all our stores and online shop.
Introducing the Brand New Pall Mall Barbers App and Online Booking System! The best way to Book is via App! 

Tea Tree-infused Shampoo for Men by Pall Mall Barbers
Tea tree shampoo is another ingredient that has remained in the good books of the best barbers Fulham for a long time. It is also widely used in skin and hair care products primarily due to its quick-healing properties. Our tea tree shampoo contains the rich essence of organic tea tree and eucalyptus oil that are best known to treat itchy scalp. But, our shampoo by Pall Mall Barbers South Kensington is famed for offering many more benefits to improve your hair's health in and out.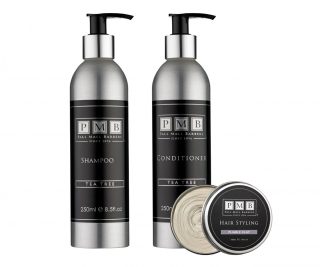 According to reputed by barbers Earls Court, its invigorating ingredients help in combatting dandruff and scaly scalp while preventing excess oil production at the same time. Tea tree essence together with eucalyptus will also strengthen your hair follicles, minimize hair loss, and provide you with well-nourished hair. This is why it's endorsed by many Kings Road barbers. So, regular usage of Tea Tree Shampoo by Pall Mall Barbers London Bridge will improve the overall shine and lush appeal of your hair while soothing your irritated scalp.
2. Conditioner
The next product would be to use a conditioner, for the purpose of – conditioning as the name implies! It will lock in the moisture and help your hair look hydrated. Remember that you are making your hair prone to dryness if you use only shampoo. Take advice from the best barber Chelsea! The conditioner will form a protective layer around your hair strands, ensuring your locks stay healthy. Conditioner is crucial for those with longer hair as it's more vulnerable to thinning, breakage, split ends and drying.
This is another pro tip by South Kensington barbers. A conditioner should be a part of your regular hair care routine for many other purposes. It will also eliminate frizz, soften your hair, and prep it for styling. The refreshing and revitalizing contents of good conditioners by barbers Fulham make your hair flexible, soft, and easy to manage. Also, unlike shampoos, the conditioner can be used more often. Your hair needs optimum hydration, and if your hair has high porosity, it can do well with daily conditioning. The tip from barbers South Kensington here is to use a wash-out conditioner to use along with the shampoo and leave-in conditioner for other days.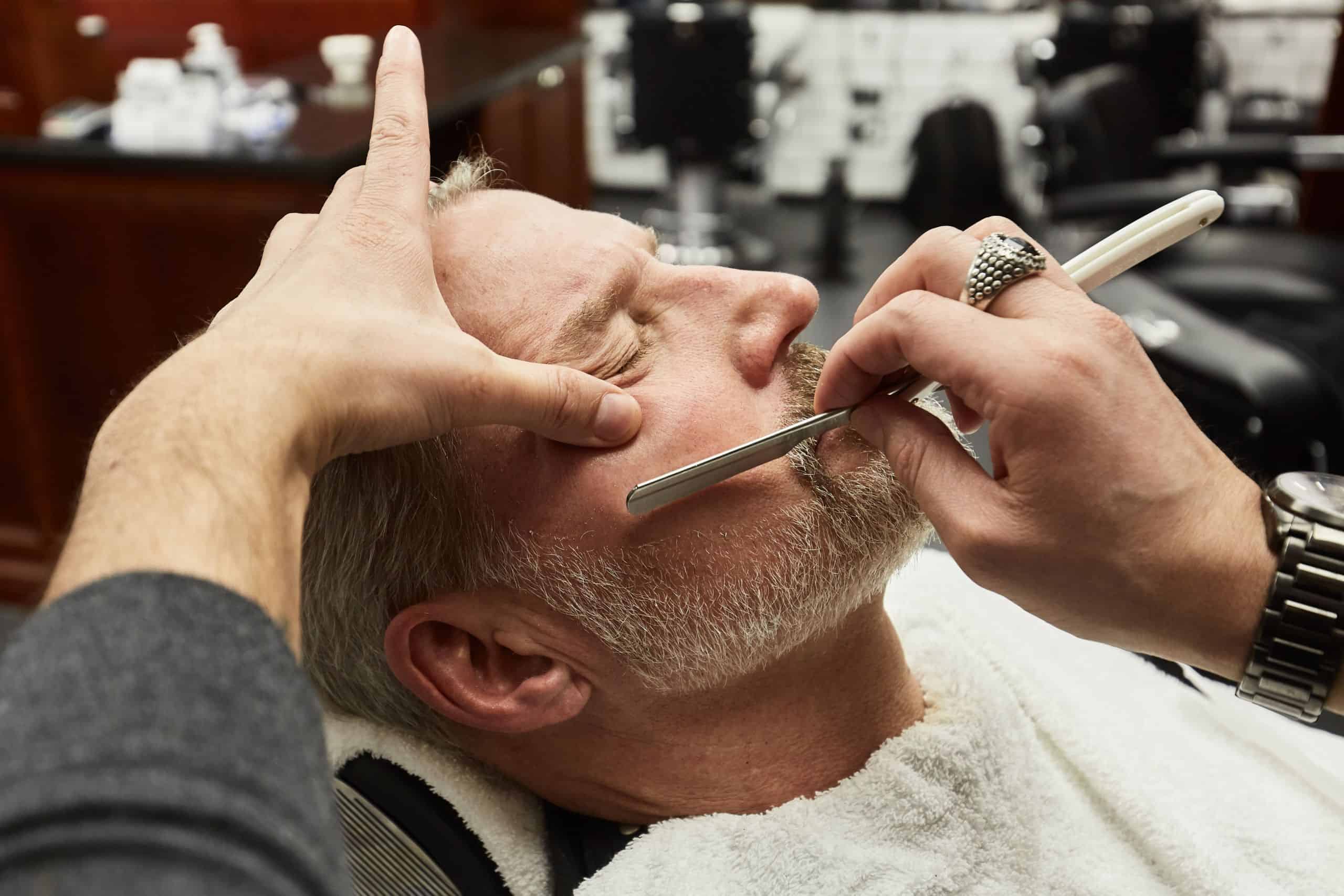 Argon Conditioner for Men by Pall Mall Barbers
Our Argon Conditioner for Men by Pall Mall Barbers London Bridge is designed to complement the argon-based shampoo and will leave your hair soft, protected, and well-nourished. It will also add an attractive lustre to your locks, making your hair attractive even when you don't have any styling product on!

Tea Tree Shampoo for Men by Pall Mall Barbers
If you choose our tea tree-infused shampoo, don't forget to purchase our Tea Tree Shampoo for Men by Pall Mall Barbers Earls Court. The powerful conditioner will treat the roots of your hair and lock moisture while adding a soft touch to your hair! Both these conditioners by Chelsea barber will eliminate frizzy hair, deeply moisturize hair, and provide long-lasting protection from external environmental factors like heat and humidity!
3. Pre-styling Product
A pre-styling product is not mandatory, but there are a lot of benefits you can get from using one. This is why it's a go-to product for many leading barbers London Bridge. Many men use a pre-styling product, as it provides an added degree of flexibility that makes hair easy to manage and style. Think of it as the base or foundation for all other hairstyling products.
According to reputed South Kensington barbers, if you are tackling wispy, thin, or dull-looking hair, a pre-styler can give a volume boost, making your hair look thicker and fuller. If you deal with curly hair that's difficult to manage, a pre-styling can smoothen your locks, making it easy to apply creams on them. It will also improve the hair texture by providing a matte-like feel.
It's important that your pre-styling product by barbers Earls Court is light in texture, so it doesn't weigh down your hair. It should also retain the natural look of your hair while enhancing its definition. It's best to apply them on damp hair, although there's no hard and fast rule about that. That being said, most of the pre-style products aren't recommended to be used every day. Your barbers London Bridge will educate you on all about it.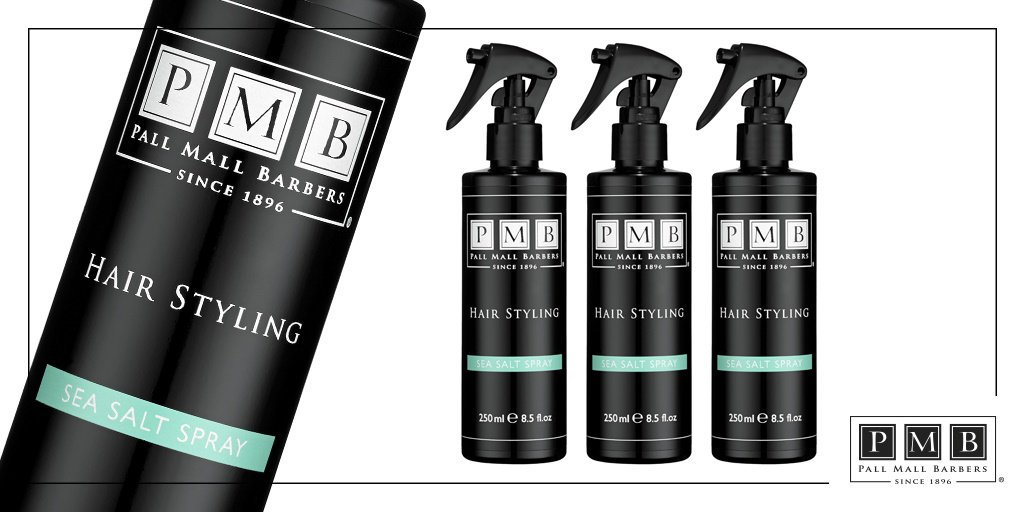 Sea Salt Spray by Pall Mall Barbers
As the best barber Chelsea, we highly recommend using a sea salt spray as a pre-styler in your hairstyling routine. Pall Mall Barbers' Sea Salt Spray is one of our signature products that can be used as a pre-styler as well as the main styling product. According to leading barbers Earls Court, it is perfect for thin hair, as a few spritzes can enhance the volume and definition to a great extent. It will provide a great bounce and crunchy texture for your hair, and the best barbers London Bridge recommend the spray for men who want to achieve the glorious beach hair look!
The best feature of the Sea Salt Spray by the best South Kensington barbers is its non-sticky texture. It doesn't leave a residue and will absorb into the hair right away! All you have to do is spray into damp or dry hair, holding the bottle a few inches away from the hair. Then, let it dry before applying the desired men's hairstyling product.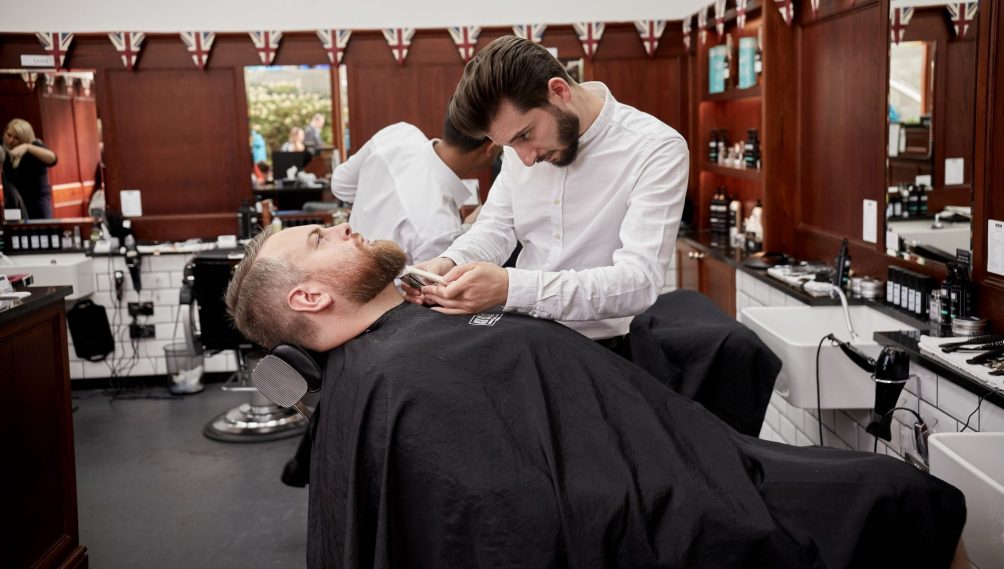 4. Hair Styling Product
Next up is your favourite hair styling product by South Kensington barbers! This step depends on the kind of style you want to achieve as well as the length, volume, and type of your hair.
However, there are some common tips provided by Kings Road barbers to keep in mind when using any hairstyling product. First, little is always better than a lot when starting to apply a product. So, take a small amount first and work on your hair, until the product is distributed evenly all over your hair. Then, if necessary, you can use more. According to barbers South Kensington, little goes a long way when it comes to a lot of products like pomade, a pompadour, and hair cream, and overusing it can make weigh your hair down while making it look greasy!
Next, it's important to select high-quality products by Pall Mall Barbers Fulham when it comes to both haircare and skincare. You don't want to spend on subpar products that don't work or ruin your hair. So, remember to purchase from a reliable and renowned brand, ideally from your best Chelsea barber. Then, focus on whether you need low, medium, or high-hold products.
Hold refers to a product's ability to "hold" your hairstyle in place firmly. High-hold products by Kings Road Barbers, for example, can keep your hair intact throughout the day and are great for hairstyles like a faux hawk or pompadour. Shine is another factor of importance next to hold as per the best Kings Road Barbers. Do you want a low-shine, medium-shine, high-shine, or matte texture?
Depending on your preference, you can go for a suitable product recommended by the best barber Chelsea. The hold and shine level is usually specified in all hairstyling products. Finally, select products that suit your hair as advised by barbers London Bridge. Not all products are formulated to be suitable for all types of hair. If you have fine hair, heavy products can weigh down your hair, making it look unappealing. In this regard, look for products by barbers South Kensington that will pump some volume into it!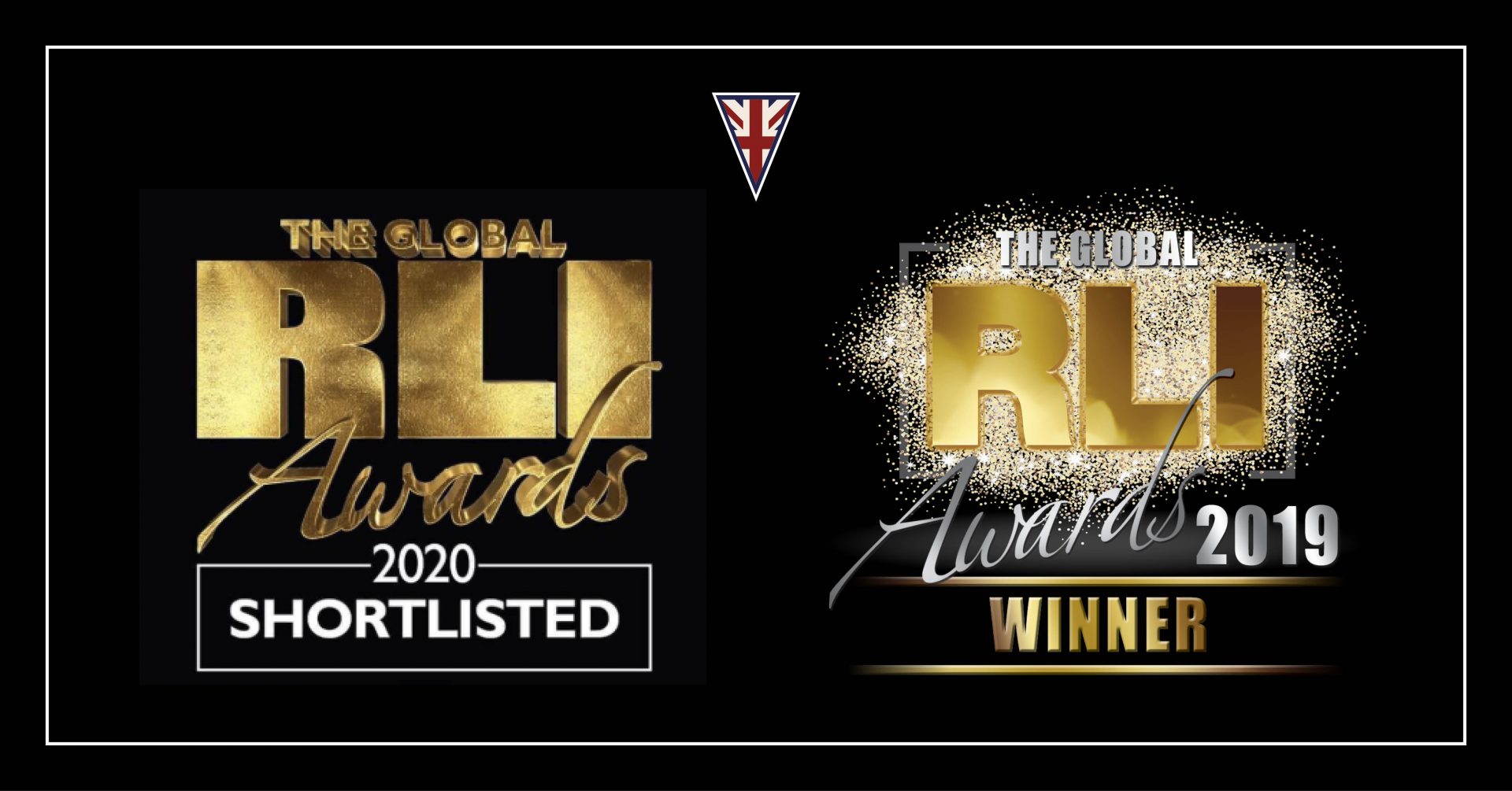 Best Range of Premium Hair Styling Products by Pall Mall Barbers
Pall Mall Barbers Fulham has a range of excellent hair styling products designed just for gentlemen who need nothing but the best investment for their hair. They are formulated with high-quality ingredients to guarantee effective results, and we, barbers Earls Court have a large client base who repeatedly hunt for our products.
If you are looking for high-hold products by a Chelsea barber, you can try our Texture Enhancer, Pliable Clay, and Workable Paste. They are great for sporting hairstyles like a faux hawk, quiff, Mohawk, slicked-back undercut as well as hard side parts. The texture enhancer by Pall Mall Barbers South Kensington, specifically, can make your hair appear voluminous and is a great product for short hair. Our medium-hold products like Pompadour and Pomade are designed for flexible hairstyles like the pompadour, side-part, angular fringes, etc.
Pall Mall Barbers Paddington Location
Conveniently located near to Paddington rail and tube station at Paddington Central, our barbershop in Paddington is a short walk from Edgware Road and Royal Oak tube stations, as well as Warwick Avenue underground station.
Pall Mall Barbers Paddington Address: 23 Sheldon Square, Paddington, London W2 6EY
Nearest Tube Stations
Book an appointment with our awesome Paddington team, this can be done via our Website Booking System or by using the free PMB app (available on iOS and Android). Alternatively, call the shop and speak to one of our friendly team members, who will be delighted to make a booking for you.
If you searching for a Barber | Barbers | Barbershop | Barber Shop | Best Barbers in London | Barber Shop in London | Barbers in London | Barber Near Me | Barbers Near Me | Barber London | Barber | Mens Haircut | Barber Shop Near Me | Beard trim | Best Beard Trims | Barber in London | Best Barbers Near Me | Mens Haircut Near Me | Beard | Male Grooming | Paddington Barbers | Bayswater Barber | Barber Maida Valle | Barber Notting Hill | Barbers Westbourne | Westbourne Barbers | St James Barber | Kensington Barbers | Barber Kensington | Barber South Kensington | South Kensington Barbers | Barbers Edgware Road | Edgware Road Barbers | Barbers Bloomsbury | Paddington Barber – You are in the right place!