Latest News
Pall Mall Barbers London – Barbers Hackney – Best barbers in London
Pall Mall Barbers London – Your Best Barber in London
Pall Mall Barbers London – Barbers Hackney – Best barbers in London. Grooming is an essential part of your self-care routine, and you shouldn't settle for anything but the best. So, whether you need to drop in for a haircut, beard trim, or neatly done shave, it's important that you choose a reputed barbershop. You could be here, after having searched for the best Barbers Hackney online and found out about our exceptional service.
Otherwise, you could be here because one of our clients has recommended us and we are glad to welcome you! If you are searching for the best barbershop in Convent Garden that offers nothing less than top-notch service for clients, look no further. As one of the most sought-out barbers North London, Pall Mall Barbers guarantees you nothing but the best experience. We are an award-winning barbershop renowned for providing high-quality haircuts and related services for men.
We are committed to providing our clients with the best service. It is our passion that has helped Pall Mall Barbers Hackney stand out from the rest. For us, your hair concerns are very important, and we are thrilled to support your grooming routine! You can rely on us to give you the best haircut, shave, or beard trims in the entire London at an affordable price! The Range of Services Offered by Pall Mall Barbers Convent Gardens. At Pall Mall Barbers North London, our clients can receive a variety of services to support and enhance their grooming routine.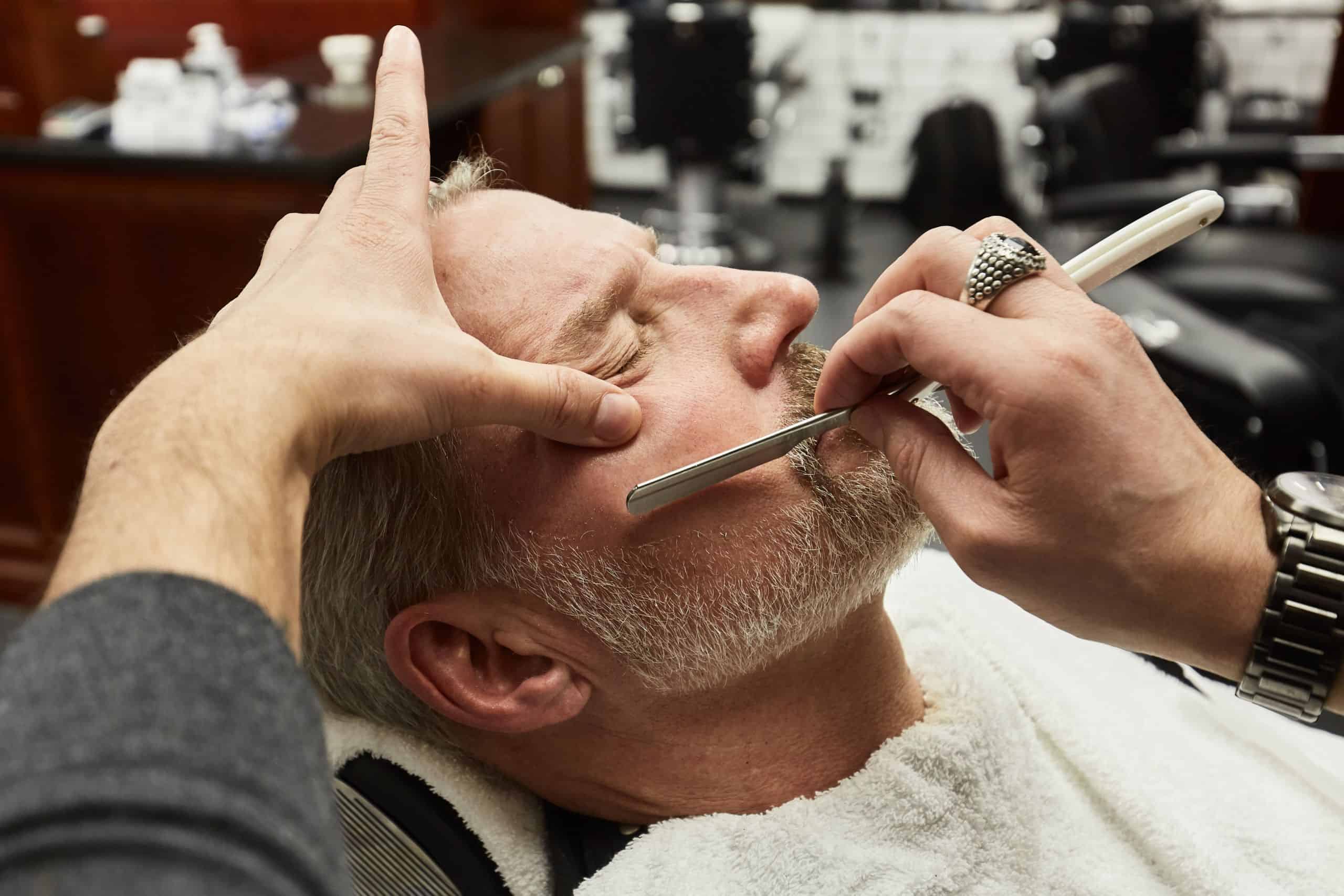 Our services include but are not limited to:
 Haircuts and head shaves
 Wet shaves
 Shaving lessons
 Beard styling and trims
 Hot towel treatments
 Friction massages
 Packages services that include multiple services
Get the Best Haircut from Pall Mall Barbers London there are so many haircut types for men, depending on their face shapes and hair type. It can be an overwhelming task to decide what suits you best. For this reason, many dread choosing a style, thinking it can end up in a disaster. We at Pall Mall Barbers London are ready to help you with it.  You can communicate your requirements and ask for suggestions from our expert barbers and get their opinions.
Our barbers in North London have served a lot of clients and have a wealth of experience in helping clients choose the ideal haircut for them. So, you can always rely on their suggestions without hesitation. After all, there's a reason why Pall Mall Barbers remain the best barbers in London for many years! Sometimes, you would have a specific hairstyle in mind and want a good barber who will cater to your exact requirements.
Pall Mall Barbers London is equipped with staff members who specialize in providing everything from modern to classic haircuts! If you are looking for Barbers Hackney, you can place an appointment at our barbers branch and consult one of our barbers to explain your needs. An in-depth discussion will ensure you and the barber know the end result, so there will be no misunderstandings.
Even if you are not a fashion-forward person, a good haircut is a matter of great importance. It's a defining feature of your appearance, so make sure you hand over the task to good hands. As one of the highly respected and experienced barbers North London, we know that good hair isn't complete merely with a good haircut. This is why clients are always provided with valuable advice to care for their hair with quality products specially designed for men's hair.
High-Quality Hair Product Range from Pall Mall Barbers Convert Gardens
If you are looking for high-end yet affordable hair care and grooming products from barber Camden in barbers Convert Gardens,  you have come to the right place. Pall Mall Barbers' luxury product range is equipped with everything necessary to keep your grooming routine in check. Pall Mall Barbers hair care products are famed for their efficacy and ease of use. They are formulated with safe, mild, yet potent ingredients to provide the best results.
The texture of many of our products is very flexible, non-sticky, and easy to wash off. It also absorbs quickly into your hair, leaving no residue to stiffness behind! All you have to do is consult with one of our staff members and determine the best product for your hairstyle and hair type. During the consultation, your Convert Gardens barber will educate you on the importance of maintaining a regular grooming routine to keep your favourite hairstyle in perfect shape.
Our barbers Angel will inform you about the kind of essential products you should own to maintain healthy hair and provide recommendations from our extensive range of products. You are not compelled to buy our products, but if you use them once, you will never look back again! On the other hand, if you are looking for a particular product like pompadour, pomade, or clay, you can request a sample to try as well! We also offer our clients "bundled products" at discounted prices.
Besides styling products, Pall Mall Barbers London also offers shaving kits, hair nourishing products, and cologne – to cover your needs from every aspect. Our range of products includes but is not limited to Pompadour Paste, Pomade, Flexible Shine Paste, Beard Oil, Sea Salt Spray, shampoo, conditioner, and shaving razors.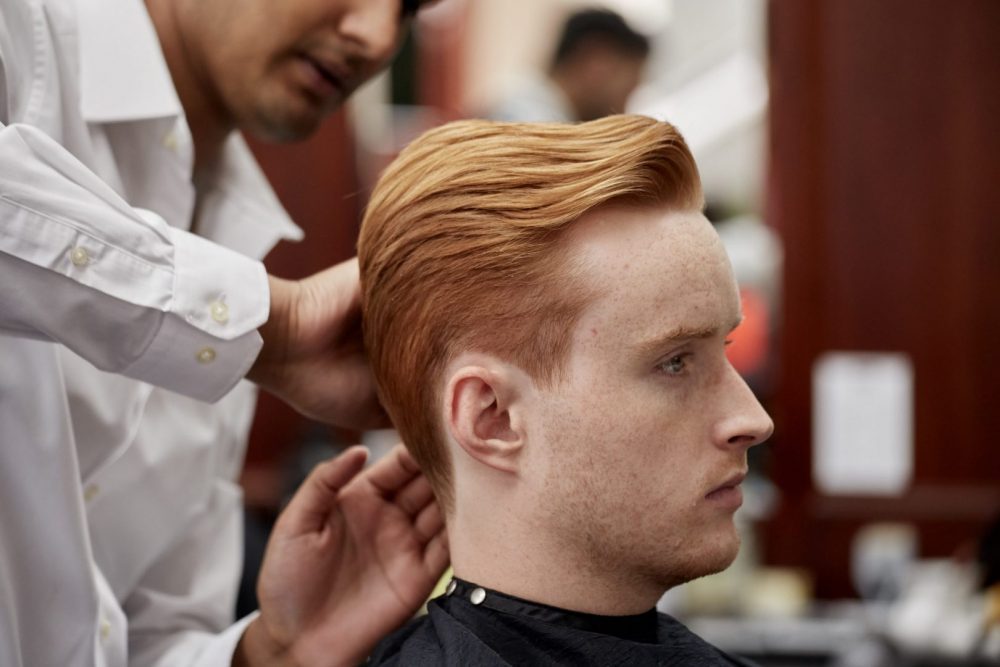 The Best Barbers London to Get a Smooth Shave
Achieving a clean and close shave at home is not easy – at least not for everyone. If you are struggling with dry and coarse facial here, shaving can be a painful experience. If you want to avoid cuts, razor burns, and annoying post-shave irritation, it's best to leave that task to experts. Besides offering haircuts, Pall Mall Barbers London is also specialized in providing beard trims and shaving.
We offer both shaving lessons and luxury shaving sessions.  Do you want to learn the art of achieving a high-quality, clean-shaven look, right from the comfort of your own home? Then, sign up for a shaving lesson that will walk you through a thorough step-by-step tutorial by one of our barbers.
Additionally, you can also purchase the shaving kit right from our website or Pall Mall Barbers Convert Gardens branch. Everything from razors to shaving brushes to aftershave is available. It saves a lot of time and hassle on your part, and with experts by your side to help you choose the right products, you really can't go wrong!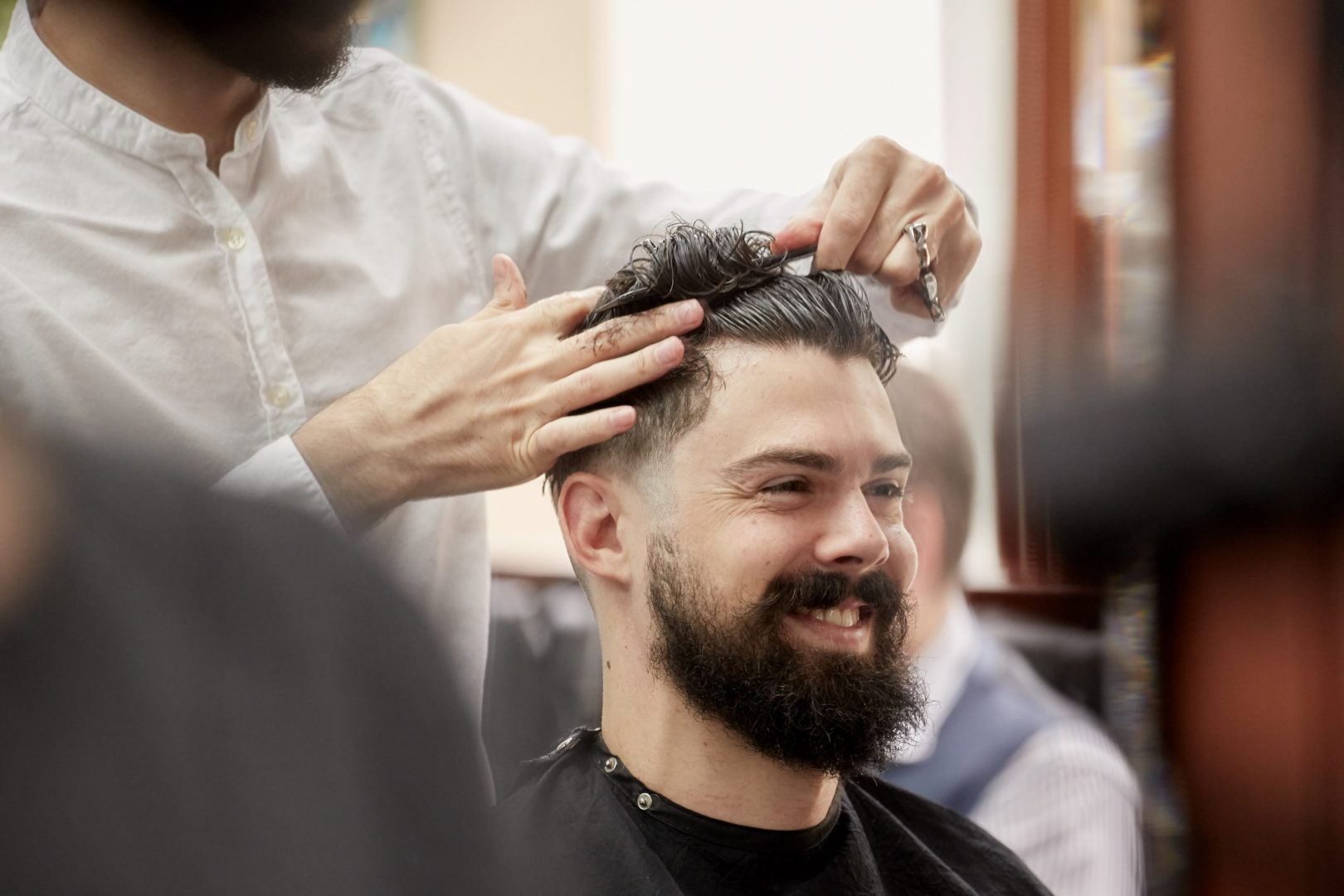 This is one of the reasons why we remain one of the top barbers North London. We improve our clients' convenience by providing everything needed for a perfect shaving routine. The Pall Mall Barbers in Kings Cross are recognized as the best barbers in Euston, Islington, Angel, Russell Square, and Camden as well. Many of our loyal clients also sign up for a luxury shaving session because it's more than a simple shaving experience.
Our thorough, well-designed process of wet shaving begins by prepping your facial hair with the use of great products from our own brand. Our barbers Islington are renowned for handling shaves with care and precision, leaving no room for mistakes. So, if you want to treat yourself to a nice shave before attending an important event or meeting someone special, don't forget to place an appointment with us.
Trust us when we say, there's nothing more pampering than having a shaving session at Pall Mall Barbers London. Our expert barbers are meticulous, precise, careful, and dedicated to what they do. You would immediately find yourself relaxing and enjoying the seamless wet shaving service. We are motivated to perform every service as our best service. In addition to beard shaves, we also provide head shaves. So, if you are looking for barbers near me in Barbers Hackney area that can handle all haircutting services, Pall Mall Barbers is the best choice.

Best Beard Styling Services at Pall Mall Barbers Kings Cross
Want to get a sharp beard trim to sport a new look? We highly recommend visiting a professional barber London as they can help you trim it properly to achieve a balanced and proportionate look. This is especially true if you need a beard with a gradual fade or sharp look. Let's face the truth. While you may have an exact picture of how your beard should look like, achieving the look at home is difficult, especially if you aren't experienced in doing it.
You also need the right trimming tools to help you even out the beard very well. Expert barbers Angel, on the other hand, are equipped with the skill, expertise, and, perspective to style your beard right! Why strain yourself when you can walk away with a great-looking beard with the help of a professional? We at Pall Mall Barbers  aren't just focused on giving clients impressive beard trims. We will also guide you on maintaining it while nourishing your facial hair.
If you are struggling with an itchy, patchy, or scaly beard, you can consult our team and get some advice. While using our beard oil can overcome many of these issues, our barbers will also tell you when it's important to see a skin expert.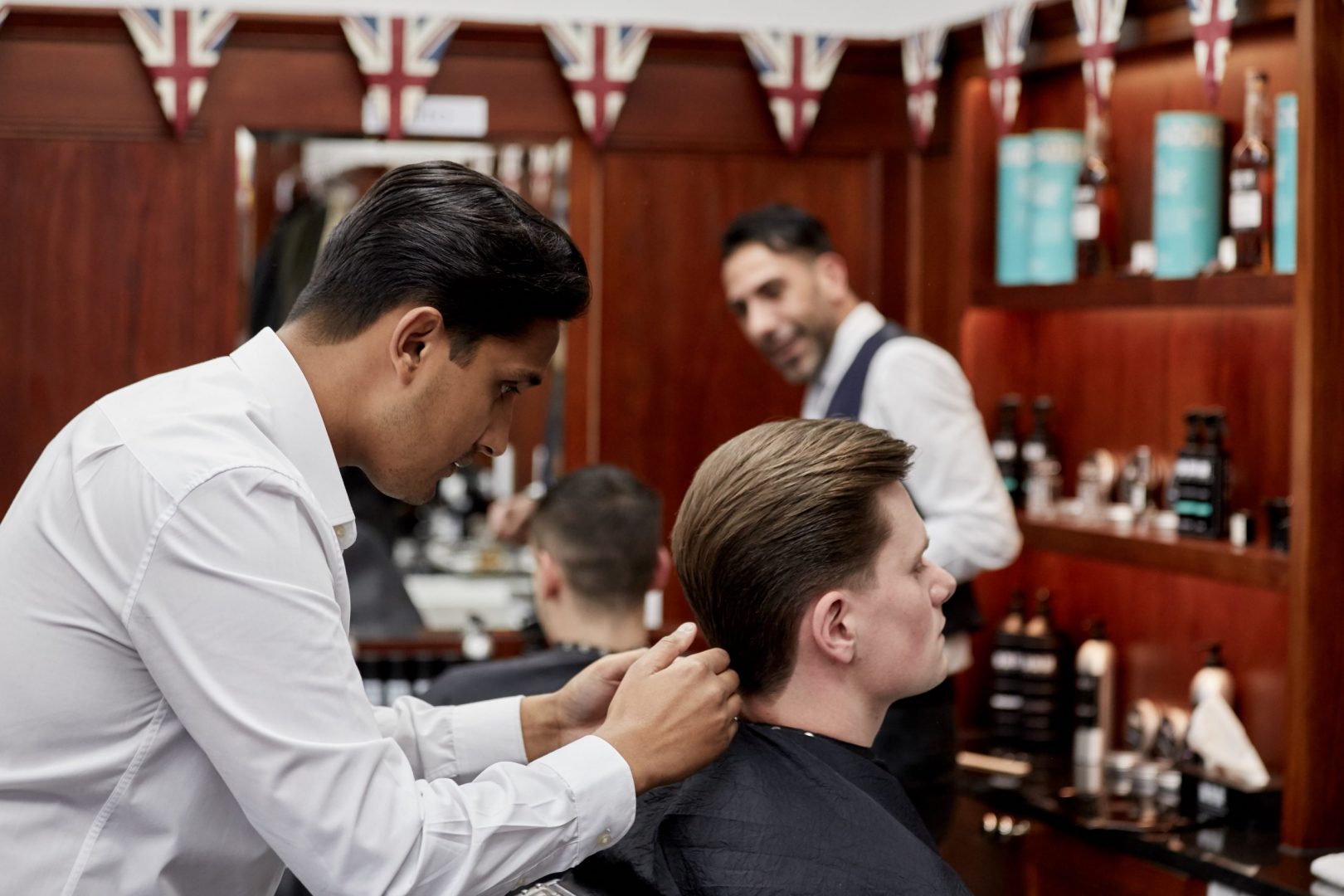 Why Visit Pall Mall Barbers Barbers Hackney
If you have been going to a salon until now, it might be time to step into a real barbershop. Unlike salons, barbershops are specially designed to cater to men's haircutting services. Your requirements are fulfilled by specialists who have extensive experience in providing different types of haircuts. They are better at understanding your hair type and needs and tailoring the services accordingly.
Moreover, barbershops provide clients with a unique experience. You would find the atmosphere to be completely different from an ordinary salon. Pall Mall Barbers Convert Gardens is designed to welcome clients into a relaxing, sophisticated, and classic ambience. We are also dedicated to providing clients with well-rounded service. The services begin with a consultation to understand the individual needs of clients better and provide suggestions.
Our barbers are more than happy to have a small chat and provide hair care advice from their end. Moreover, services at barbers Camden aren't necessarily limited to haircuts and beard trims. We also offer scalp and beard massages at Convert Gardens Barbers, so if you want to take a day off from your hectic schedule and de-stress, you know where to come!

Pall Mall Barbers Kings Cross Location
Pall Mall Barbers Kings Cross Address: 68 York Way, Kings Cross, London N1 9AG
Conveniently located near Kings Cross rail and tube station as well as St. Pancras International, our barber shop is just a short walk away – tucked just behind Kings Cross, near to Central Saint Martins and Regents Canal, nestled amongst the many media buildings including The Guardian HQ at Kings Place.
Nearest Tube Stations
Nearest Train Stations
Kings Cross Rail
St. Pancras International
Book an appointment with our awesome team of Kings Cross Barbers, this can be done via our website booking system or by using the free PMB app (available on iOS and Android). Alternatively, call our barber shop and speak to one of our friendly barber team members, who will be delighted to make a booking for you.
If you searching for Barber | Barbers | Barbershop | Barber Shop | Best Barbers in London | Barber Shop in London | Barbers in London | Barber Near Me | Barbers Near Me | Barbers of London | Barber in London | Mens Haircut | Barber Shop Near Me | Beard trim | Best Beard Trims | Barber London | Best Barbers Near Me | Mens Haircut Near Me | Beard | Male Grooming | Barbers Kings Cross | Barbers near Kings Cross | Kings Cross Barbers | York Way Barbers | Barbers Caledonian Road | Barber Caledonian Road | Barbers Islington | Barbers Angel Islington | Islington Barbers | Barber Smiths Islington | Barbers in Angel Islington | Camden Town Barbers | Barbers Farringdon | Kentish Town Barbers – You are in the right place.