Latest News
Searching for the Best Men's Haircuts near Mailbox?
If you want to find the best men's hairstylists Mailbox has to offer, look no further. We are definitely the providers of the best men's haircuts near Mailbox Birmingham. Don't take our word for it, read the reviews!
We haven't been delivering men's haircuts in Mailbox Birmingham for long but we've already established our reputation as the best around. If you searched 'men's hairstylists Mailbox', 'beard trimming Mailbox' or 'men's haircuts Mailbox' you would have found our details. If you didn't get them, you can find us at 6 Wharfside Street, Mailbox, B1 1RD and call us on 0121 794 1693.
As mentioned, it hasn't been long since we arrived with our combs and cutting devices in hand. However, we have quickly gathered the attention, respect and loyalty of local gentlemen. Our rating on Google is a solid 5 out of 5 stars. Incredible! We're so proud that we've been accepted and appreciated for our luxury men's haircuts in Mailbox Birmingham. At the time of writing, we have over 10 000 written reviews from customers who love our experience and are grateful that we are open on Sundays. There's nothing better than finishing your weekend with a relaxing treatment from a deluxe barbershop. Maybe a hot towel treatment or a wet shave, perhaps a new hairstyle to get you looking sharp for the week? Whatever you fancy, come and visit the best men's hairstylists Mailbox Birmingham has to offer. We'll take care of you!
Did you know? Our haircutting heritage stretches way back to 1896. Yes, you read that correctly. We have been around for almost 125 years. We've got 6 stores in the capital and even one overseas, across the pond in the big apple. You get the idea – we're well-experienced, established experts in our craft. It's easily noticed when you enter our shop. You'll be greeted by our team and by the pleasant waft of scents from our premium range of products. Maybe the delicate steam from the hot towel treatments will transport you to a faraway land of therapy. Walking into Pall Mall Barbers is like stepping into a retreat. You'll immediately feel the stresses and anxieties of the outside world evaporate from your mind. You'll feel the weight lift from your shoulders as you sink into our famous leather chairs. That experience which you will indulge in when you visit, is exclusive to us in Birmingham and that's why we say we're the best men's hairstylists near Mailbox. It's not just about the service (although, we will come to that) it's about the unique atmosphere, the wonderful ambience and aura which fills the room as gents receive the best men's haircuts Mailbox has ever offered.
So, what about the actual treatments themselves? From friction massages and luxury wet shaves to skin fades and re-styling – you know your head will be in good hands. As masters of men's haircuts in Mailbox, we serve all kinds of gentlemen from tourists to local tradesmen. The one thing they all want is quality. Our men's hairstylists near Mailbox Birmingham don't just dive straight in with the scissors and clippers. They take their time to assess what you desire and proffer some advice, taking into consideration your face shape, hair texture and more. It's combining science and art. It's about caring, being passionate about our craft and committing to delivering top quality service each and every time. So, whether you're searching for 'beard trimming Mailbox' or 'Men's haircuts Mailbox', make your way over to our barbers in Mailbox Birmingham. You won't be disappointed!
Best  Barbers in Birmingham?

Our Birmingham barbers are super talented and expertly equipped to deliver the best experience, crowning us the best barbers Birmingham has ever had. To arrive at our Mailbox barbers, take a short stroll around Birmingham City Central and you'll land in one of our famous, relaxing, luxurious chairs. Once seated, one of our master barbers will attend to you and ask about your ideal look. We want to be the architect and the artist of your appearance, so we don't rush straight in with the scissors or quickly use the clippers – we take time to create a masterpiece. Our Birmingham barbers will tell you if your style suits your face shape and how to maintain your look afterward – our experience goes far beyond the actual service and that's why we're the best barbers Birmingham has ever seen.
We produced a vast range of luxury men grooming products, inspired by our client's needs and lifestyle.

TCR is full of life. Hustle, bustle… haircuts. You can't really name your favorite Mailbox barbers as fast as you can mention a bar that you frequent or that place with the delicious food. However, our Mailbox barbers is about to change that. We have set a new standard for barbers London has in its vicinity. We boast almost 125 years of haircutting heritage because our first store was opened in 1896. Since then, we've gone from strength to strength and spread our talents around the city, hence you can now visit our Birmingham barbers. There's a reason we have an amazing 4.8/ 5-star rating on Google, with almost  10 000  reviews – we're passionate about what we do and the gentlemen of London witness it first-hand when they're attended to by our Birmingham barbers. If you look around, you'll notice that most Birmingham barbers are similarly mediocre in terms of establishment, experience, and reputation.
We value your time and we will cut no corners to give you a top-quality service every time you visit
We stand proudly away from that crowd and fly the flag for quintessential British hairdressing and exemplary service, the likes of which has won us awards and a plethora of plaudits from the people who really matter – our customers. We're just a comb's throw from the tube so if you are interested in coming to the best barbers Birmingham has ever had, you'll simply need to walk for 5 minutes and before you know it, you're in a world of bliss. The scintillating, fresh smells and the comfort of being treated are just two addictive ingredients we marinade into our experience here at the best Mailbox barbers. How to choose the best barbers Birmingham Central has to offer think we're different because we genuinely want you to look good, all the time. For us, it's not about getting you in, chopping some locks and getting you out as quick as possible. Your appearance matters and we hope you agree that in order to take care of it, there needs to be care and expertise. By visiting our Birmingham Central barbers, you're not just guaranteeing yourself an immaculate look on the way out, you're checking yourself in for a therapeutic, revitalising experience which will leave you sharper on the inside as well as the outside.
We are known as the best barbers Birmingham has ever had because we are passionate about producing the best look and ensuring that you know how to maintain it afterward. Thanks to our fantastic, premium product range you can go home equipped with the best accessories from our Birmingham barbers – this means you can look your best every day, without having to pop in to see us. Of course, you'll need to return once it becomes overgrown and untidy.
Hair
Best Haircuts by Pall Mall Barbers
Are you happy with your current hairstyle? Perhaps you're looking to spruce it up and try something new. Visiting our Birmingham barbers will get you a ticket to the hottest seat in town (for haircuts) because you'll have a master barber at your service. Discuss what you desire, take their advice and watch your ideal hairstyle come to life.
Beard Styling

Ah! The all-important beard trim and shape. Add character to your face, create definition and bring your personality forward with fantastic facial hair. At our Birmingham barbers, you can rest with ease knowing that your beard is in good hands. Get sharpened up and look your best!
Shaving
Want something more traditional? We've got you covered, nothing beats our luxury wet shave. Be prepared for some pampering and premium products, as we take a razor to your face the classic way. You'll leave our Birmingham barbers feeling fresh, rejuvenated and most importantly, handsome!
How to book an appointment
Walk-in
Book online here
Book via the Pall Mall Barbers App available on the App Store and Google Play
Call the store directly on 01 794 1693
Opening Hours
We're open 7 days a week, rain or shine at our Birmingham barbers at the Mailbox.
Monday – Saturday 10:00 AM to 8:00 PM
Sunday 10:00 AM to 5:00 PM
Get £5 OFF YOUR FIRST HAIRCUT AT PALL MALL BARBERS MAILBOX
Pall Mall Barbers at Mailbox Birmingham has been a roaring success since we arrived here in the second city. We've accumulated amazing reviews from locals who are experiencing a level of grooming excellence unparalleled to anything they'd tried before. There is a 5-star rating on Google for our Birmingham barber shop and for this, we'd like to thank all the wonderful gents who have been frequenting our salon for their fix of fantastic barbering services.
Pall Mall Barbers Birmingham Location
Pall Mall Barbers Birmingham Address: Level 1, 6 Wharfside St, Birmingham B1 1RD
You'll find our Birmingham Barber Shop located at The Mailbox near Birmingham City Center –  just a short walk from Birmingham New Street.
Nearest Metro Stations
Grand Central Metro Station
Town Hall
Library
Nearest Train Stations
Birmingham New Street
Five Ways
Birmingham Moor Street
Book an appointment with our awesome Birmingham team, this can be done via our Website Booking System or by using the free PMB app (available on iOS and Android). Alternatively, call the shop and speak to one of our friendly team members, who will be delighted to make a booking for you.
What makes us the best barbers Birmingham has ever had?
A trawl through London's archives will help you discover that the Pall Mall Birgminhham,  brand can trace its heritage of hairdressing way back to 1896. We've been serving the city's gentlemen with exquisite services for almost 125 years and we're not stopping any time soon – you can expect us to treat you with the best men's haircuts Central London has ever seen. Since our humble beginnings, we've expanded city-wide, nation-wide and worldwide. One of our best-loved locations is this one and it's one of our favourites too – the grand architecture of the district, the esteemed gentlemen who pass through and the relaxed lifestyle are all a perfect match for us. As our experts, they are dedicated to treating you to a special experience each time you enter our store, simply search for Barber Birmingham – Barber shop Birmingham.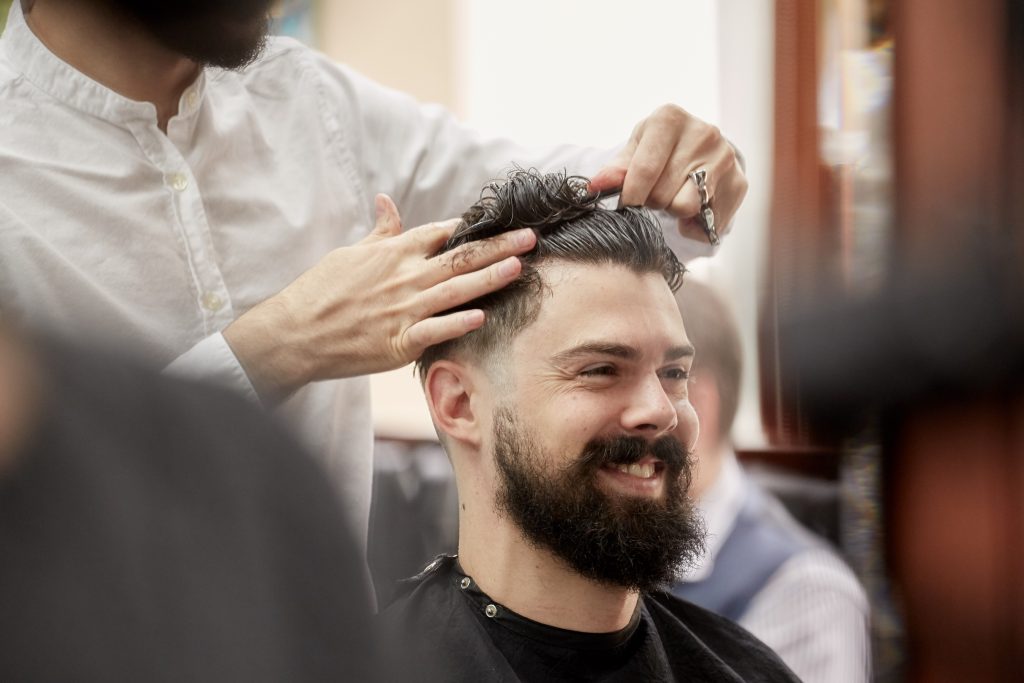 Having such a fantastic history means we are constantly working to ensure that our legacy remains intact. We aren't stopping in terms of evolving the way we operate, we will always innovate and try to find new ways to impress and add value to our customers' in-store and after-care experience. However, there are some traditional elements which are enshrined in our story and are here to stay. One of those things can absolutely be found in our store and it is our classic wet shave. Besides the products becoming more premium and the razors being a superior quality, the way in which we deliver this treatment is with tradition in mind. Everything we do at our salon must provide you, the customer, with the best experience – that's why we take time with our services and ensure you're enjoying it. We feel that an experience at a men's hairdressers should be therapeutic and an escape from the often overwhelming outside world. We care a lot about mental health issues and have even been recognised by the Duke of Cambridge for our work on the matter, so it's paramount that we treat the gentlemen who enter the best barber  Best barbers near me r barber shop near me has ever had as best as we can, allowing them to relax. Why drown your sorrows and celebrate your accomplishments in a bar when you can do it in the sophisticated company of a legendary barber shop. As our experts, they are dedicated to treating you to a special experience each time you enter our store, simply search for Barbers Birmingham City Centre – Barber Shop Birmingham.
Barber, Barbers, Barber shop , Barber shop near me , Barber near me , Barber shop near me , Barber Birmingham , Barber shop Birmingham, Barber Birmingham City Center, Best barber near me, Men's barbers near me 
Hair – Pall Mall Barbers Birmingham – Best Barbers Birmingham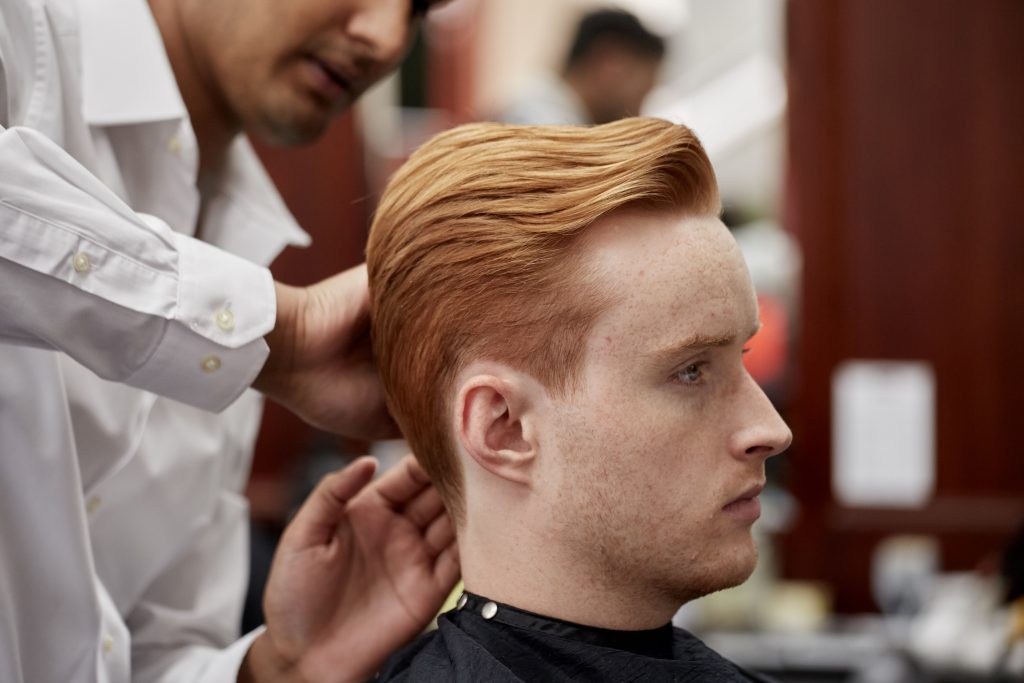 Whether you're looking for something new or just want a better version of your 'usual', getting your hair cut and styled is a big deal. It's going to have an impact on how you feel, how you're perceived and it's something we take seriously. Hair is our art and craft, it's our science and business too – this means when you enter our place to experience the best men's haircut Birmingham has to offer, you can rest assured that you're coming into a place where your head is in safe, experienced hands. We'll discuss your desired look, offer some advice and then execute the perfect cut and style!
Barber, Barbers, Barber shop , Barber shop near me , Barber near me , Barber shop near me , Barber Birmingham , Barber shop Birmingham, Barber Birmingham City Center, Best barber near me, Men's barbers near me 
Beard Styling – Pall Mall Barbers Birmingham– Best Barbers Birmingham
Facial hair needs styling too! Getting your beard trimmed, shaped and sharpened is a great way to add definition and character to your appearance. With steady, experienced hands and a keen eye for style, our store is staffed with experts who can design your beard like an artist creating a masterpiece.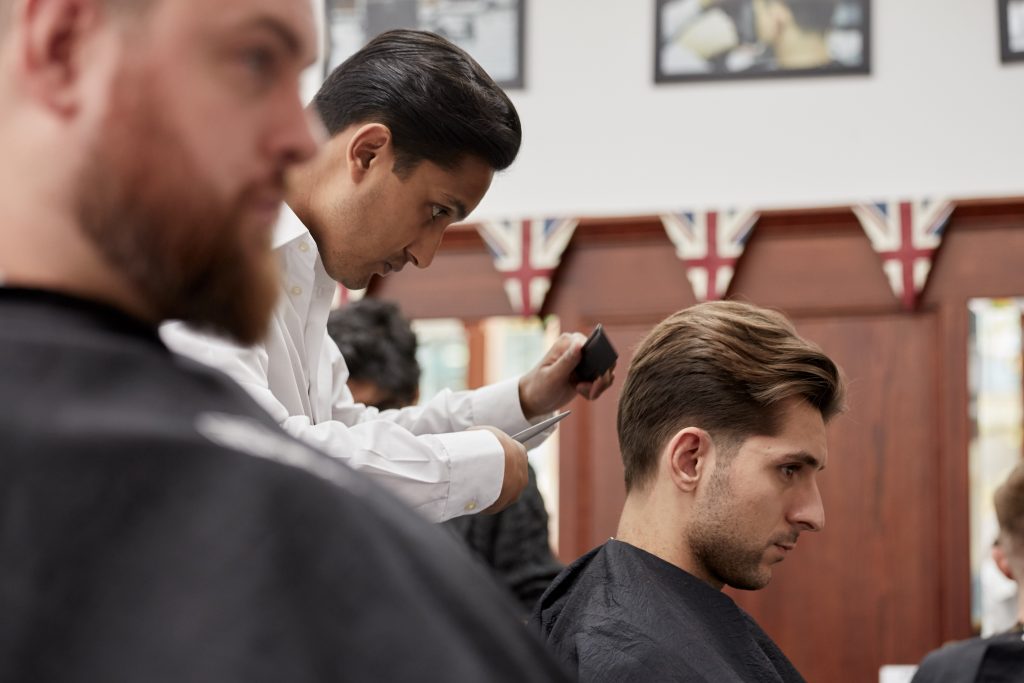 Shaving – Pall Mall Barbers Birmingham – Best Barbers Birmingham
As mentioned, the classic wet shave is one of our star services because we've been doing it for so long and refined it to perfection. Nothing beats the feel of our luxurious foam and the refreshing swipe of our sharpened blades, as they groom your face to perfection. You'll feel rejuvenated, reenergised and ready to roll!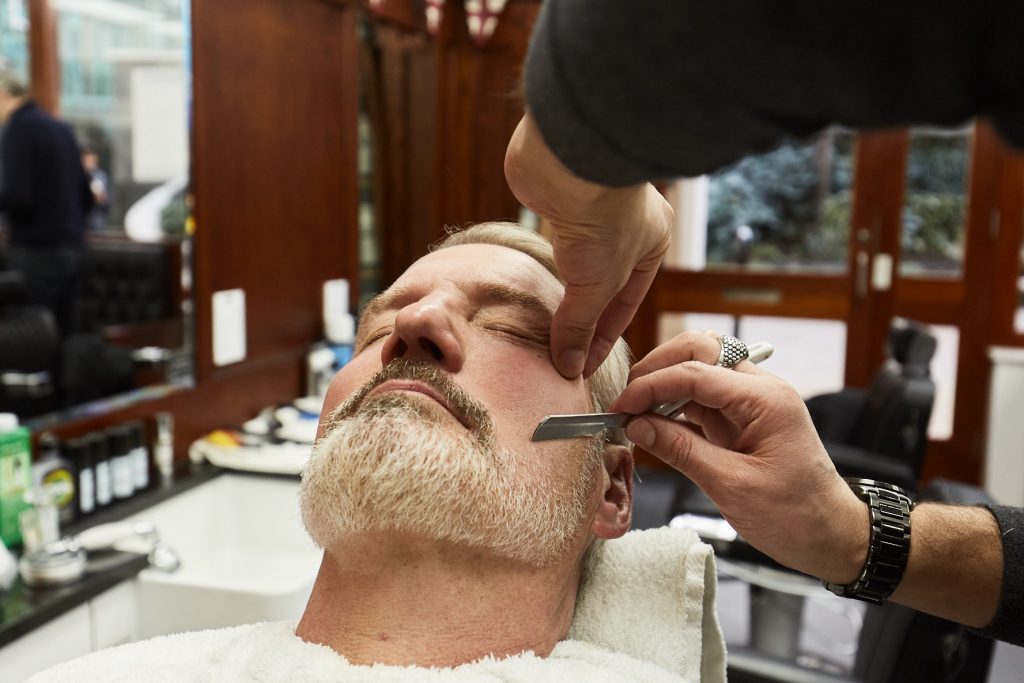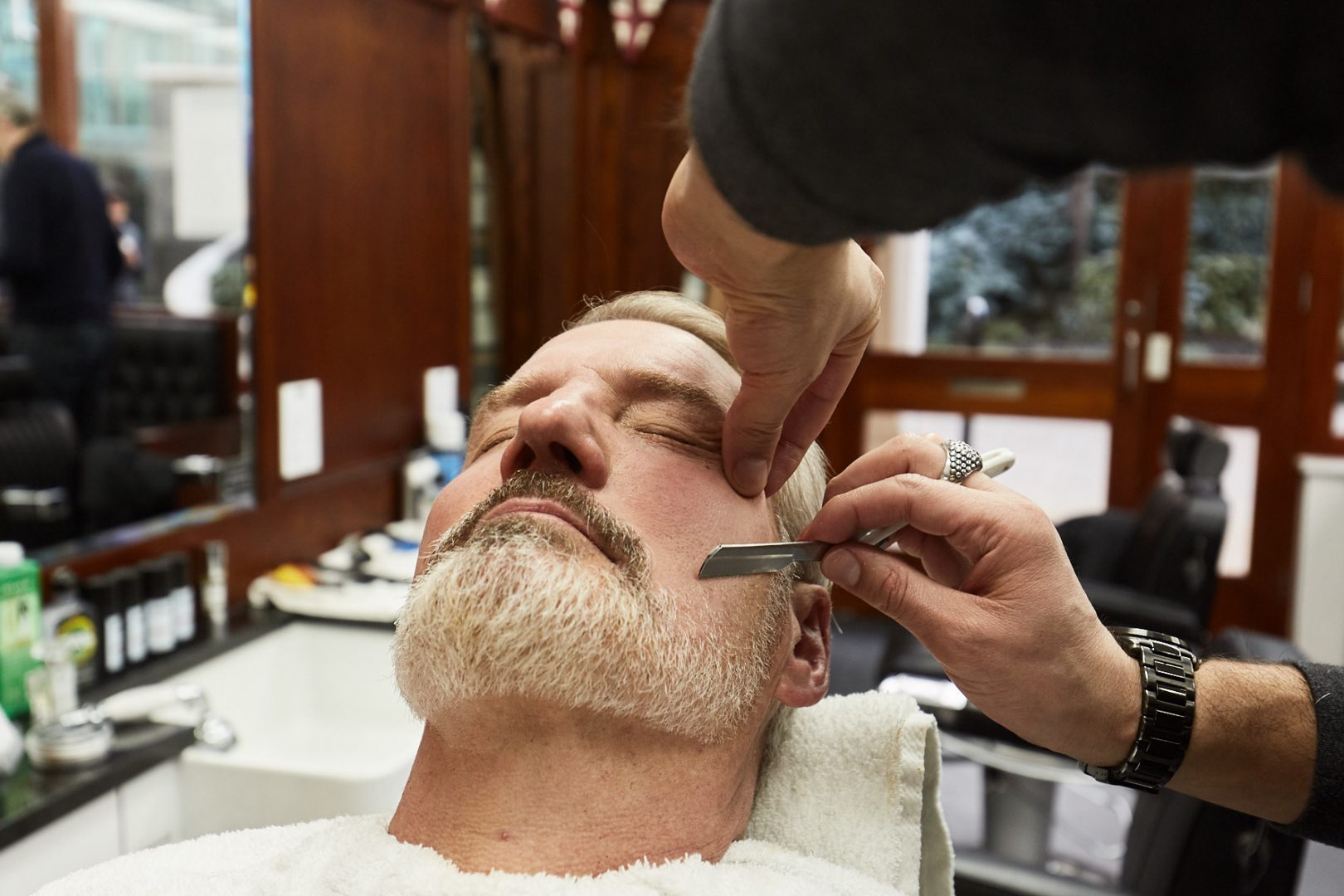 Barber, Barbers, Barber shop , Barber shop near me , Barber near me , Barber shop near me , Barber Birmingham , Barber shop Birmingham, Barber Birmingham City Center, Best barber near me, Men's barbers near me ,barbers near me,barbers Birmingham , barbers open near me ,barbers in Birmingham , barber shops near me , Birmingham barbers ,barber shop
Pall Mall Barbers Birmingham Location
Pall Mall Barbers Birmingham Address: Level 1, 6 Wharfside St, Birmingham B1 1RD