Latest News
Pall Mall Barbers Birmingham – More about us and our services
Pall Mall Barbers Birmingham has been at the forefront of men's grooming and has set the agenda for a style-conscious gentleman, for over 120 years in London. Today, we deliver over 64,000 haircuts a year with a focus on empowering gentleman to look and feel fantastic every day. If you want to find the best men's hairstylists Mailbox has to offer, look no further.
Our relentless dedication to deepening our knowledge of styling techniques and traditions across the globe has given birth to a world-class suite of products and services that combine cutting edge styling with the very best global men's grooming techniques.
Every service starts with an in-depth consultation which helps your barber deliver the perfect service, so you can look and feel fantastic and make the right impression, every time. Not sure what you want? Why not have a chat with our barbers in Birmingham to see what would best suit your face shape and personality?
Services offered at Pall Mall Barbers Birmingham include quality haircuts, beard styling, and luxury wet shaves from some of the finest barbers in Birmingham. Not forgetting our range of award-winning men's grooming products that can be purchased in-store too.
So, what about the actual treatments themselves? From friction massages and luxury wet shaves to skin fades and re-styling – you know your head will be in good hands. As masters of men's haircuts in Mailbox, we serve all kinds of gentlemen from tourists to local tradesmen. The one thing they all want is quality. Our men's hairstylists near Mailbox Birmingham don't just dive straight in with the scissors and clippers. They take their time to assess what you desire and proffer some advice, taking into consideration your face shape, hair texture and more. It's combining science and art. It's about caring, being passionate about our craft and committing to delivering top quality service each and every time. So, whether you're searching for 'beard trimming Mailbox' or 'Men's haircuts Mailbox', make your way over to our barbers in Mailbox Birmingham. You won't be disappointed!
By visiting our Birmingham Central barbers, you're not just guaranteeing yourself an immaculate look on the way out, you're checking yourself in for a therapeutic, revitalising experience which will leave you sharper on the inside as well as the outside.
Pall Mall Barbers Birmingham Team
Our team of talented stylist barbers at Pall Mall Barbers Birmingham can offer grooming advice as well as classic and contemporary gents haircuts and all manner of barbering services – from traditional luxury wet shaves to beard trimming and styling. Providing the best haircuts in Birmingham, with that great barbershop banter. Your team of master barbers in Birmingham will navigate you to the exact products you should go for and how to you use them.
Our product range is something we take great pride in from combs to pomades. Each product is precisely fine-tuned and developed for a particular need, and you'll know which is for you based on your desired hair style.
We are on a mission to be the best barbers Birmingham has to offer. From classic techniques to modern styles, our refined men's grooming service adds an element of relaxation and therapy to a busy man's day. We produced a vast range of luxury men grooming products, inspired by our client's needs and lifestyle. We understand that your style is the personal expression of who you are, which is why our team consult with each client to deliver a tailored service, every time.
This level of willingness to go above and beyond is what keeps our barbers in Birmingham a cut above the rest, exemplified in the vast range of services offered. From the traditional wet shave to the modern styles, Pall Mall Barbers near Birmingham City Central is a salon of pampering for any gentleman to take advantage of.
As mentioned, it hasn't been long since we arrived with our combs and cutting devices in hand. However, we have quickly gathered the attention, respect and loyalty of local gentlemen. Our rating on Google is a solid 5 out of 5 stars. Incredible! We're so proud that we've been accepted and appreciated for our luxury men's haircuts in Mailbox Birmingham. There's nothing better than finishing your weekend with a relaxing treatment from a deluxe barbershop. Maybe a hot towel treatment or a wet shave, perhaps a new hairstyle to get you looking sharp for the week? Whatever you fancy, come and visit the best men's hairstylists Mailbox Birmingham has to offer. We'll take care of you!
We value your time and we will cut no corners to give you a top-quality service every time you visit
We stand proudly away from that crowd and fly the flag for quintessential British hairdressing and exemplary service, the likes of which has won us awards and a plethora of plaudits from the people who really matter – our customers.
Hair
Are you happy with your current hairstyle? Perhaps you're looking to spruce it up and try something new. Visiting our Birmingham barbers will get you a ticket to the hottest seat in town (for haircuts) because you'll have a master barber at your service. Discuss what you desire, take their advice and watch your ideal hairstyle come to life.
Beard Styling
Ah! The all-important beard trim and shape. Add character to your face, create definition and bring your personality forward with fantastic facial hair. At our Birmingham barbers, you can rest with ease knowing that your beard is in good hands. Get sharpened up and look your best!
Shaving
Want something more traditional? We've got you covered; nothing beats our luxury wet shave. Be prepared for some pampering and premium products, as we take a razor to your face the classic way. You'll leave our Birmingham barbers feeling fresh, rejuvenated and most importantly, handsome!
How to book an appointment
We haven't been delivering men's haircuts in Mailbox Birmingham for long but we've already established our reputation as the best around. If you searched 'men's hairstylists Mailbox', 'beard trimming Mailbox' or 'men's haircuts Mailbox' you would have found our details. If you didn't get them, you can find us at 6 Wharfside Street, Mailbox, B1 1RD and call us on 0121 794 1693.
Walk-in
Book via the Pall Mall Barbers App available on the App Store and Google Play
Book online at www.pallmallbarbersbirmingham.com
Call the store directly on 01 794 1693
Get £5 OFF YOUR FIRST HAIRCUT AT PALL MALL BARBERS MAILBOX
Pall Mall Barbers at Mailbox Birmingham has been a roaring success since we arrived here in the second city. We've accumulated amazing reviews from locals who are experiencing a level of grooming excellence unparalleled to anything they'd tried before. There is a 5-star rating on Google for our Birmingham barber shop and for this, we'd like to thank all the wonderful gents who have been frequenting our salon for their fix of fantastic barbering services.
Pall Mall Barbers Birmingham Location
Pall Mall Barbers Birmingham Address: Level 1, 6 Wharfside St, Birmingham B1 1RD
You'll find our Birmingham Barber Shop located at The Mailbox near Birmingham City Center –  just a short walk from Birmingham New Street.
Nearest Metro Stations
Grand Central Metro Station
Town Hall
Library
Nearest Train Stations
Birmingham New Street
Five Ways
Birmingham Moor Street
Book an appointment with our awesome Birmingham team, this can be done via our Website Booking System or by using the free PMB app (available on iOS and Android). Alternatively, call the shop and speak to one of our friendly team members, who will be delighted to make a booking for you.
What makes us the best barbers Birmingham has ever had?
A trawl through London's archives will help you discover that the Pall Mall Birgminhham,  brand can trace its heritage of hairdressing way back to 1896. We've been serving the city's gentlemen with exquisite services for almost 125 years and we're not stopping any time soon – you can expect us to treat you with the best men's haircuts Central London has ever seen. Since our humble beginnings, we've expanded city-wide, nation-wide and worldwide. One of our best-loved locations is this one and it's one of our favourites too – the grand architecture of the district, the esteemed gentlemen who pass through and the relaxed lifestyle are all a perfect match for us. As our experts, they are dedicated to treating you to a special experience each time you enter our store, simply search for Barber Birmingham – Barber shop Birmingham.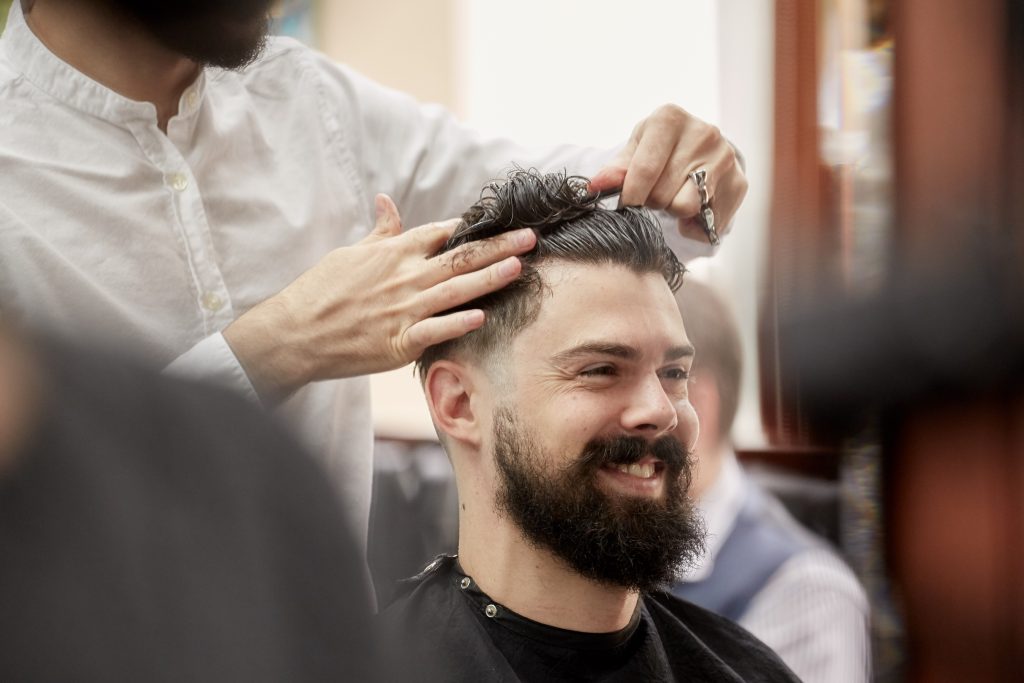 Having such a fantastic history means we are constantly working to ensure that our legacy remains intact. We aren't stopping in terms of evolving the way we operate, we will always innovate and try to find new ways to impress and add value to our customers' in-store and after-care experience. However, there are some traditional elements which are enshrined in our story and are here to stay. One of those things can absolutely be found in our store and it is our classic wet shave. Besides the products becoming more premium and the razors being a superior quality, the way in which we deliver this treatment is with tradition in mind. Everything we do at our salon must provide you, the customer, with the best experience – that's why we take time with our services and ensure you're enjoying it. We feel that an experience at a men's hairdressers should be therapeutic and an escape from the often overwhelming outside world. We care a lot about mental health issues and have even been recognised by the Duke of Cambridge for our work on the matter, so it's paramount that we treat the gentlemen who enter the best barber  Best barbers near me r barber shop near me has ever had as best as we can, allowing them to relax. Why drown your sorrows and celebrate your accomplishments in a bar when you can do it in the sophisticated company of a legendary barber shop. As our experts, they are dedicated to treating you to a special experience each time you enter our store, simply search for Barbers Birmingham City Centre – Barber Shop Birmingham.
Barber, Barbers, Barber shop , Barber shop near me , Barber near me , Barber shop near me , Barber Birmingham , Barber shop Birmingham, Barber Birmingham City Center, Best barber near me, Men's barbers near me 
Hair – Pall Mall Barbers Birmingham – Best Barbers Birmingham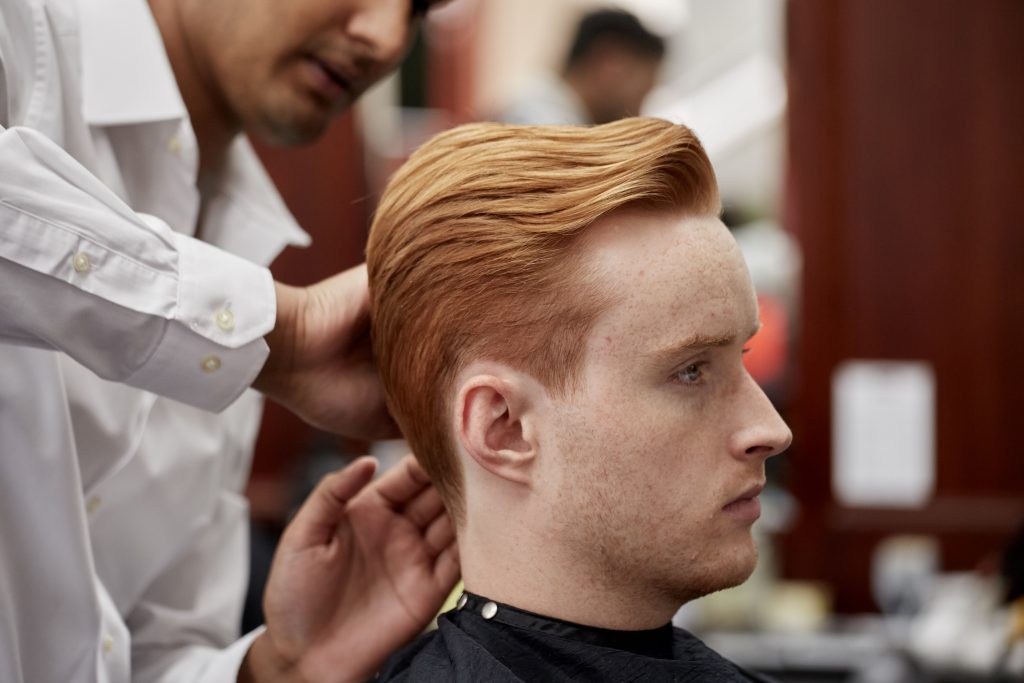 Whether you're looking for something new or just want a better version of your 'usual', getting your hair cut and styled is a big deal. It's going to have an impact on how you feel, how you're perceived and it's something we take seriously. Hair is our art and craft, it's our science and business too – this means when you enter our place to experience the best men's haircut Birmingham has to offer, you can rest assured that you're coming into a place where your head is in safe, experienced hands. We'll discuss your desired look, offer some advice and then execute the perfect cut and style!
Barber, Barbers, Barber shop , Barber shop near me , Barber near me , Barber shop near me , Barber Birmingham , Barber shop Birmingham, Barber Birmingham City Center, Best barber near me, Men's barbers near me 
Beard Styling – Pall Mall Barbers Birmingham– Best Barbers Birmingham
Facial hair needs styling too! Getting your beard trimmed, shaped and sharpened is a great way to add definition and character to your appearance. With steady, experienced hands and a keen eye for style, our store is staffed with experts who can design your beard like an artist creating a masterpiece.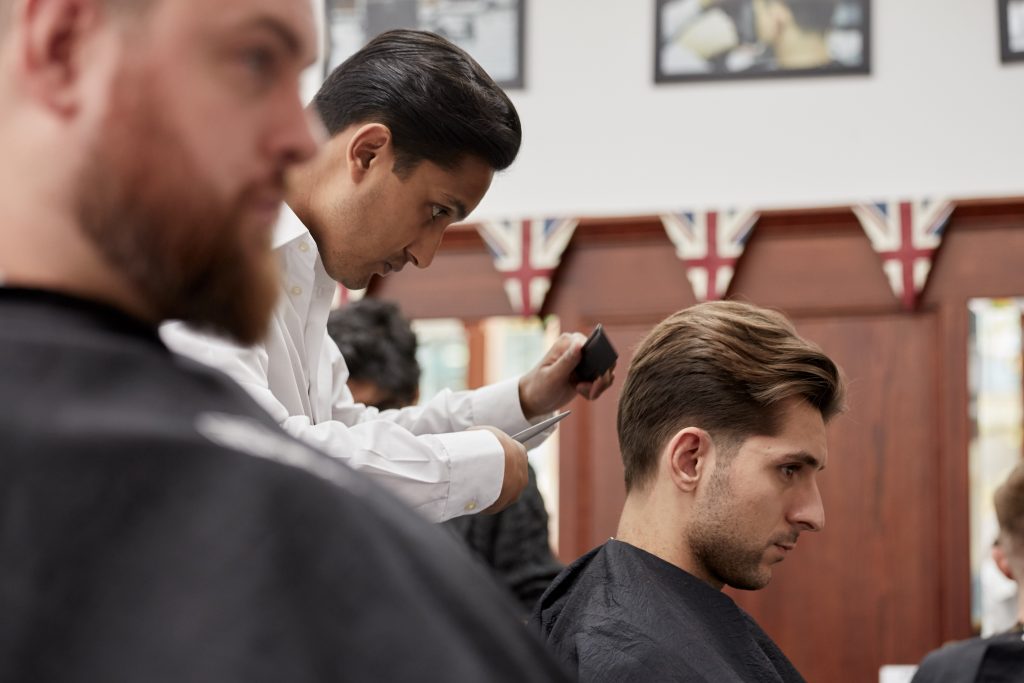 Shaving – Pall Mall Barbers Birmingham – Best Barbers Birmingham
As mentioned, the classic wet shave is one of our star services because we've been doing it for so long and refined it to perfection. Nothing beats the feel of our luxurious foam and the refreshing swipe of our sharpened blades, as they groom your face to perfection. You'll feel rejuvenated, reenergised and ready to roll!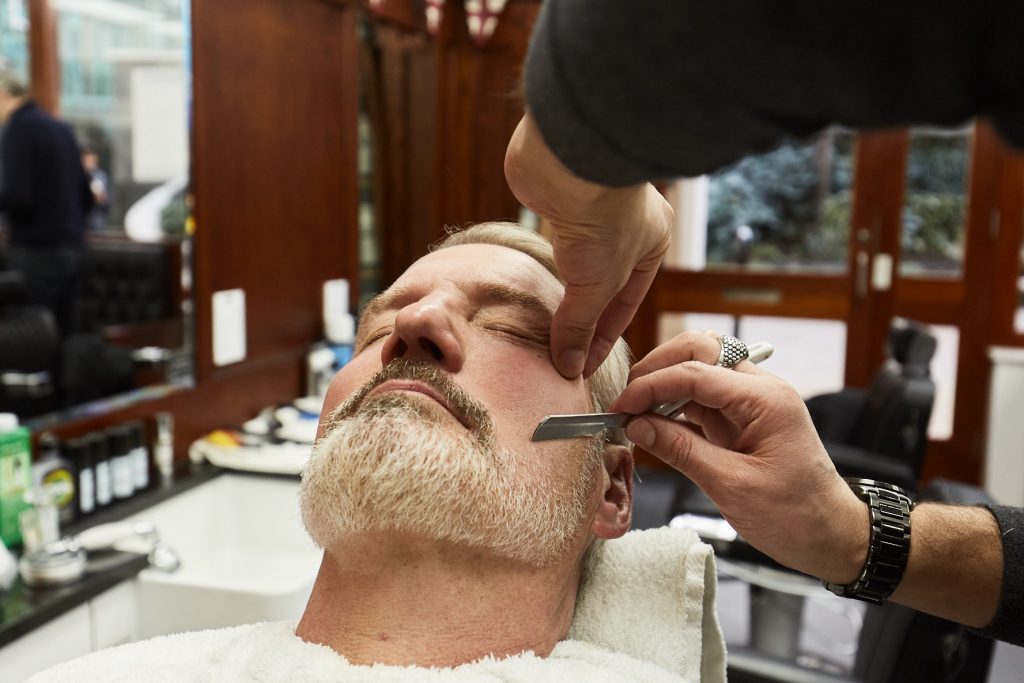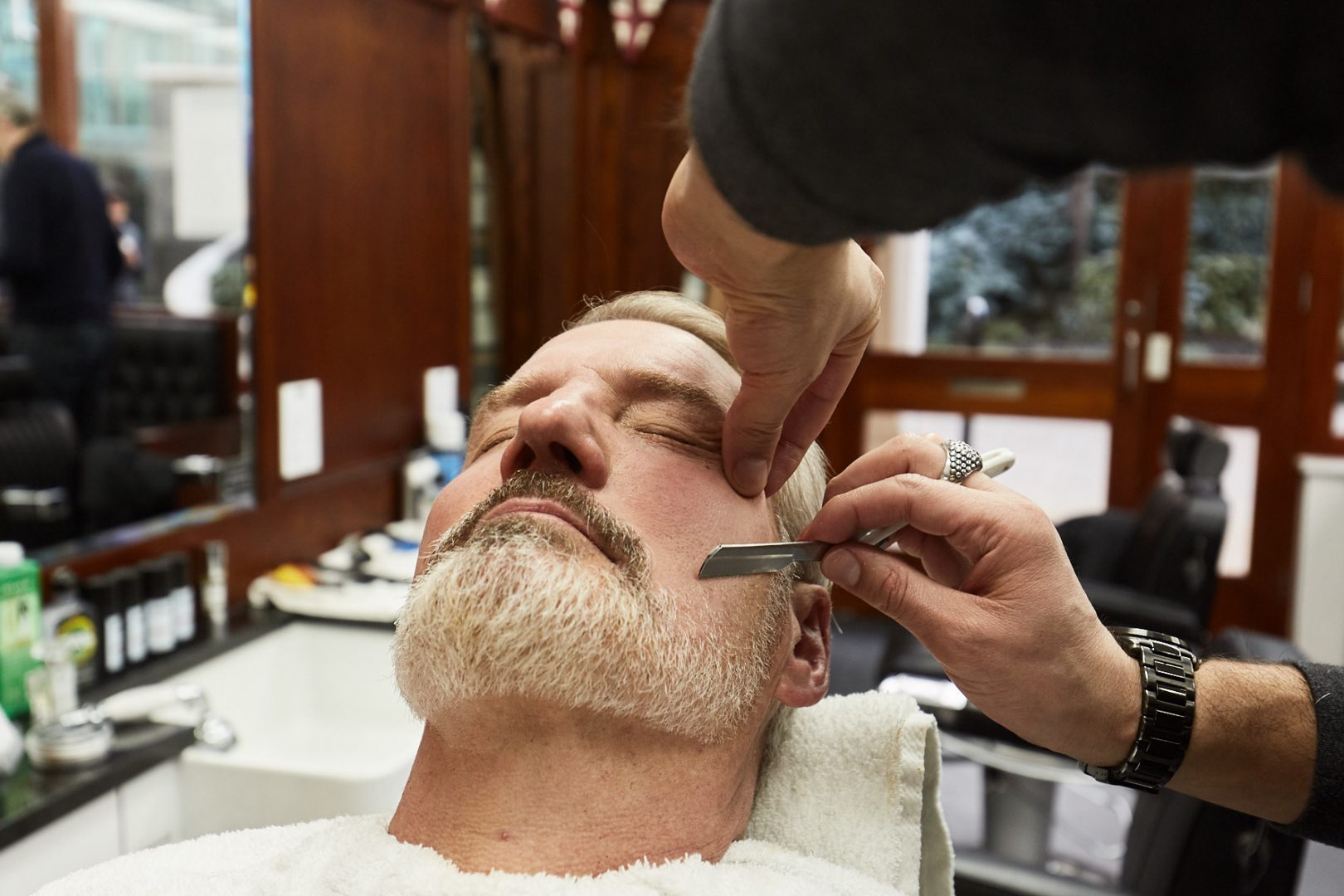 Barber, Barbers, Barber shop , Barber shop near me , Barber near me , Barber shop near me , Barber Birmingham , Barber shop Birmingham, Barber Birmingham City Center, Best barber near me, Men's barbers near me ,barbers near me,barbers Birmingham , barbers open near me ,barbers in Birmingham , barber shops near me , Birmingham barbers ,barber shop
Pall Mall Barbers Birmingham Location
Pall Mall Barbers Birmingham Address: Level 1, 6 Wharfside St, Birmingham B1 1RD