Latest News
How To Use Our Famous Beard Oil
https://www.youtube.com/watch?v=UVnwK5OITSE
By now you should know that Pall Mall Barbers is more than just a place you go to get yourself well-groomed. We like to consult you and give you advice on how to maintain your hairstyle and keep your beard healthy when you're not in the care of our master craftsmen barbers. We spent many years developing our products, especially our famous beard oil – so that they'd be perfect for you to use at home and when you're away on trips. One of our most popular creations is the Sandalwood and Clove Beard Oil. You will find the best beard oil in town!
'Shave Queen' Erin from Pall Mall Barbers London explains how to use the oil in more detail in the video above.
How To Apply
This method is for you if you just want some styling done, so you can step out with a healthier, shinier beard. First, take just 1 squirt of the oil into your palm, spread evenly in your hands and start working it into your beard from the middle of the hair to the end. You should be making a gentle pulling motion as you reach the ends of the beard. It's important you don't forget your chin and neck, they need taking care of too. To finish off, take your comb and smooth the hairs down with a soft, caressing movement. You'll notice that the hairs which usually stick out and look unsightly, are now flattened and falling in line with the rest of your gentlemanly mane. The entire style of your beard is now more accentuated than it was before, show it off!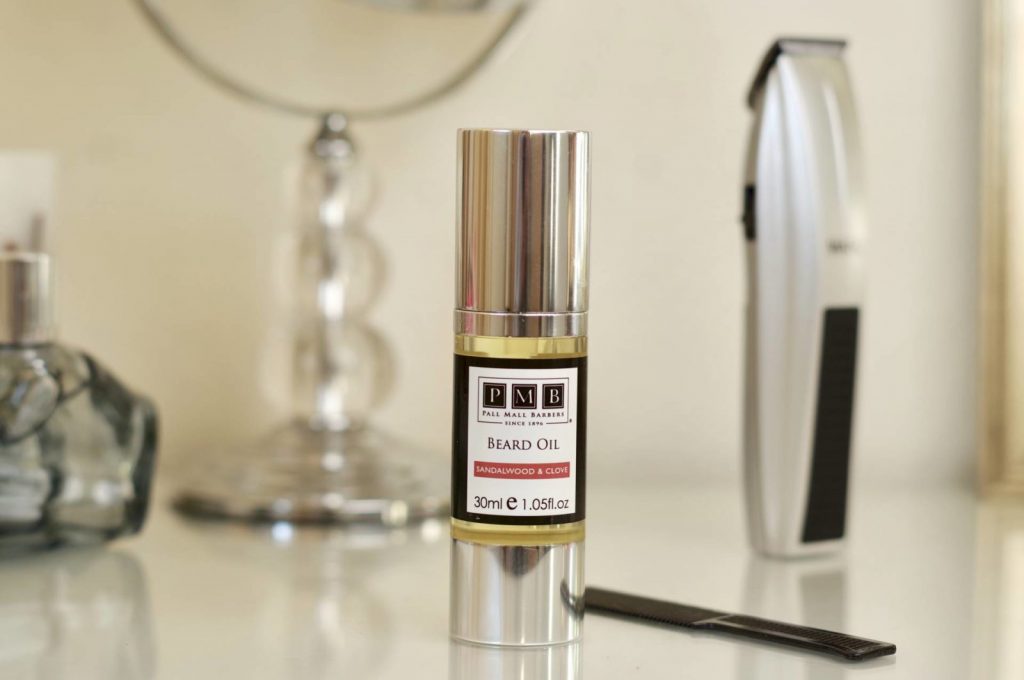 The second way of doing it is known as conditioning. Do you wash, shampoo and condition your beard in your normal routine? Well, while it's still wet you should take 2 squirts of our beard oil, rub it in your hands and prepare to apply it. Unlike the first method, this time you should massage the oil in from the skin to the end of the beard. You've got to get your fingers deep into the roots of your beard, get up and under the hair, making sure your hands are covered in the oil all the while. As the product dries, it will work its way into the beard and condition the hair from the inside out. You'll notice fewer tangles, it'll feel more pliable and easier to style.
Where to buy it
The oil is available to buy at our Birmingham Barbershop. Alternatively, you can purchase it online here.
What people say about the beard oil
We have the finest beard oil because we spent a lot of time and effort in developing it. The sandalwood and clove scent is a unique creation which we put together bringing the traditional London barbershop aroma into the modern world. In 2017 The Resident, a luxury magazine based in London, included the scent in an article titled '5 of the Best Gents' Scents for Valentine's Day'. Riddle Magazine is the UK focused lifestyle magazine, and they described the Pall Mall Barbers Sandalwood and Clove fragrance as a 'great example of the longevity of woody notes… inspired by barbershop tradition of bay rum'.
Visit the Best Beard Barbers in Birmingham
If you're unsure how to get the best out of your beard or you're struggling to maintain it, you should come to the best beard barber in Birmingham, Pall Mall Barbers. Our experts will guide you through what you're doing wrong and how to improve. You may have sensitive skin or a particular condition which is preventing your product from working so well. Perhaps it's your routine, diet or even the temperature of water you use – our master beard barbers in Birmingham will get to the root of the problem and advise you on a solution.
Feel free to ask your barber for a sample next time you're in-store. Book your appointment with Pall Mall Barbers here.
How to book an appointment
We haven't been delivering men's haircuts in Mailbox Birmingham for long but we've already established our reputation as the best around. If you searched 'men's hairstylist's Mailbox', 'beard trimming Mailbox' or 'men's haircuts Mailbox' you would have found our details. If you didn't get them, you can find us at 6 Wharfside Street, Mailbox, B1 1RD and call us on 0121 794 1693.
Walk-in
Book via the Pall Mall Barbers App available on the App Store and Google Play
Book online at www.pallmallbarbersbirmingham.com
Call the store directly on 01 794 1693
Get £5 OFF YOUR FIRST HAIRCUT AT PALL MALL BARBERS MAILBOX