Latest News
How to get the Jos Buttler haircut
Jos Buttler, England Cricket vice-captain, recently stopped by our Birmingham barbershop for a trim and was happy to pose for a photo with our talented barber Sally, who tells us how to get his look – a great hairstyle for anyone with a cowlick!
2019 World Cup Winners visit Pall Mall Barbers
We've been thrilled to welcome a number of England cricketers to our Birmingham barbershop this World Cup season – including Jofra Archer who bowled our super over – going on to win us the whole thing! Ben Stoakes, Liam Plunkett and Liam Dawson also visited our new Birmingham barbers at the Mailbox. Our champion team has made us proud – and we were honored to get the guys looking sharp for the big occasion.
How to ask for the Jos Buttler haircut
To get Buttler's look, you need to ask your barber for a 1.5 on the back and sides tapered around the ears and tapered down to a 0 at the neck.
For the top, ask your barber to point cut the top to add texture and remove weight. This haircut also has a soft parting so be sure to mention that as well.
The front of the hair should be left slightly longer than the rest of the top – giving you versatility when it comes to styling the hair.
What Sally said about the haircut
"Jos has the perfect style for anyone who has a cowlick. It's a clean and short hairstyle with good length at the front to create the perfect sweep over. The top is nicely textured allowing the style to change from up or messy at the front, or pushed over to the one side, leaving a soft side parting."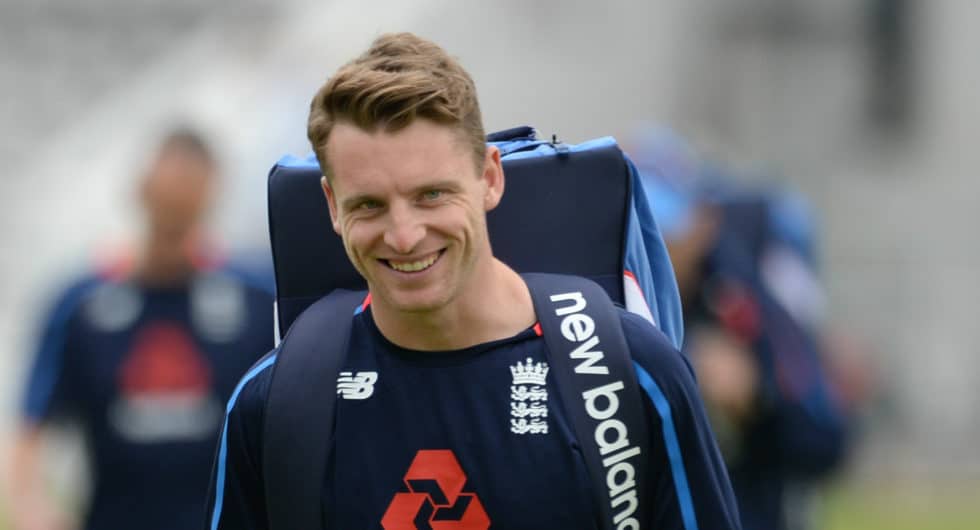 What products to use
If your hair needs extra hold and can be unmanageable, then use our Pliable Clay or Workable Paste for good stronghold. If you're luckier, and the cow's lick is your only problem, then a spritz of Sea Salt Spray will provide light hold and leave you with a natural look.
What's a cowlick?
A cowlick or cow's lick is where a section of hair stands upwards or at an angle that doesn't follow the rest of the hair – typically in the fringe section – and can make you think that having a style is a pain – but it needn't be! Simply ask your barber how they can work with your cowlick to create a style that works for you.
Click below to claim your £5 off voucher. Offer valid for new customers only.
Follow @pallmallbarbersbirmingham
Get £5 OFF YOUR FIRST HAIRCUT AT PALL MALL BARBERS MAILBOX
Pall Mall Barbers at Mailbox Birmingham has been a roaring success since we arrived here in the second city. We've accumulated amazing reviews from locals who are experiencing a level of grooming excellence unparalleled to anything they'd tried before. There is a 5-star rating on Google for our Birmingham barber shop and for this, we'd like to thank all the wonderful gents who have been frequenting our salon for their fix of fantastic barbering services.
Pall Mall Barbers Birmingham Location
Pall Mall Barbers Birmingham Address: Level 1, 6 Wharfside St, Birmingham B1 1RD
You'll find our Birmingham Barber Shop located at The Mailbox near Birmingham City Center –  just a short walk from Birmingham New Street.
Nearest Metro Stations
Grand Central Metro Station
Town Hall
Library
Nearest Train Stations
Birmingham New Street
Five Ways
Birmingham Moor Street
Book an appointment with our awesome Birmingham team, this can be done via our Website Booking System or by using the free PMB app (available on iOS and Android). Alternatively, call the shop and speak to one of our friendly team members, who will be delighted to make a booking for you.
What makes us the best barbers Birmingham has ever had?
A trawl through London's archives will help you discover that the Pall Mall Birgminhham,  brand can trace its heritage of hairdressing way back to 1896. We've been serving the city's gentlemen with exquisite services for almost 125 years and we're not stopping any time soon – you can expect us to treat you with the best men's haircuts Central London has ever seen. Since our humble beginnings, we've expanded city-wide, nation-wide and worldwide. One of our best-loved locations is this one and it's one of our favourites too – the grand architecture of the district, the esteemed gentlemen who pass through and the relaxed lifestyle are all a perfect match for us. As our experts, they are dedicated to treating you to a special experience each time you enter our store, simply search for Barber Birmingham – Barber shop Birmingham.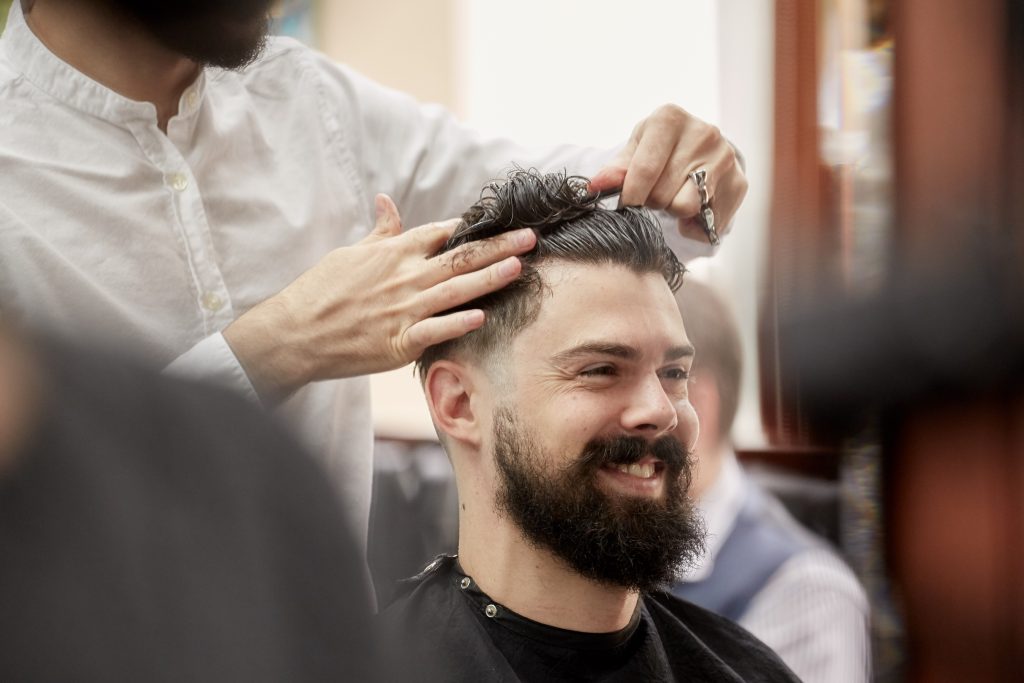 Having such a fantastic history means we are constantly working to ensure that our legacy remains intact. We aren't stopping in terms of evolving the way we operate, we will always innovate and try to find new ways to impress and add value to our customers' in-store and after-care experience. However, there are some traditional elements which are enshrined in our story and are here to stay. One of those things can absolutely be found in our store and it is our classic wet shave. Besides the products becoming more premium and the razors being a superior quality, the way in which we deliver this treatment is with tradition in mind. Everything we do at our salon must provide you, the customer, with the best experience – that's why we take time with our services and ensure you're enjoying it. We feel that an experience at a men's hairdressers should be therapeutic and an escape from the often overwhelming outside world. We care a lot about mental health issues and have even been recognised by the Duke of Cambridge for our work on the matter, so it's paramount that we treat the gentlemen who enter the best barber  Best barbers near me r barber shop near me has ever had as best as we can, allowing them to relax. Why drown your sorrows and celebrate your accomplishments in a bar when you can do it in the sophisticated company of a legendary barber shop. As our experts, they are dedicated to treating you to a special experience each time you enter our store, simply search for Barbers Birmingham City Centre – Barber Shop Birmingham.
Barber, Barbers, Barber shop , Barber shop near me , Barber near me , Barber shop near me , Barber Birmingham , Barber shop Birmingham, Barber Birmingham City Center, Best barber near me, Men's barbers near me 
Hair – Pall Mall Barbers Birmingham – Best Barbers Birmingham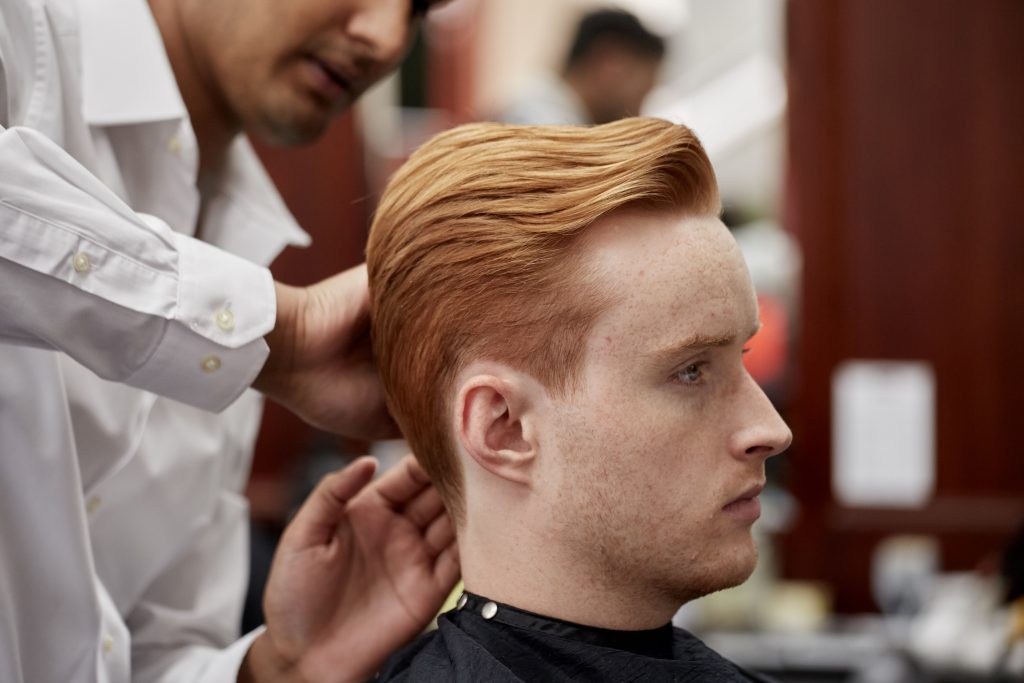 Whether you're looking for something new or just want a better version of your 'usual', getting your hair cut and styled is a big deal. It's going to have an impact on how you feel, how you're perceived and it's something we take seriously. Hair is our art and craft, it's our science and business too – this means when you enter our place to experience the best men's haircut Birmingham has to offer, you can rest assured that you're coming into a place where your head is in safe, experienced hands. We'll discuss your desired look, offer some advice and then execute the perfect cut and style!
Barber, Barbers, Barber shop , Barber shop near me , Barber near me , Barber shop near me , Barber Birmingham , Barber shop Birmingham, Barber Birmingham City Center, Best barber near me, Men's barbers near me 
Beard Styling – Pall Mall Barbers Birmingham– Best Barbers Birmingham
Facial hair needs styling too! Getting your beard trimmed, shaped and sharpened is a great way to add definition and character to your appearance. With steady, experienced hands and a keen eye for style, our store is staffed with experts who can design your beard like an artist creating a masterpiece.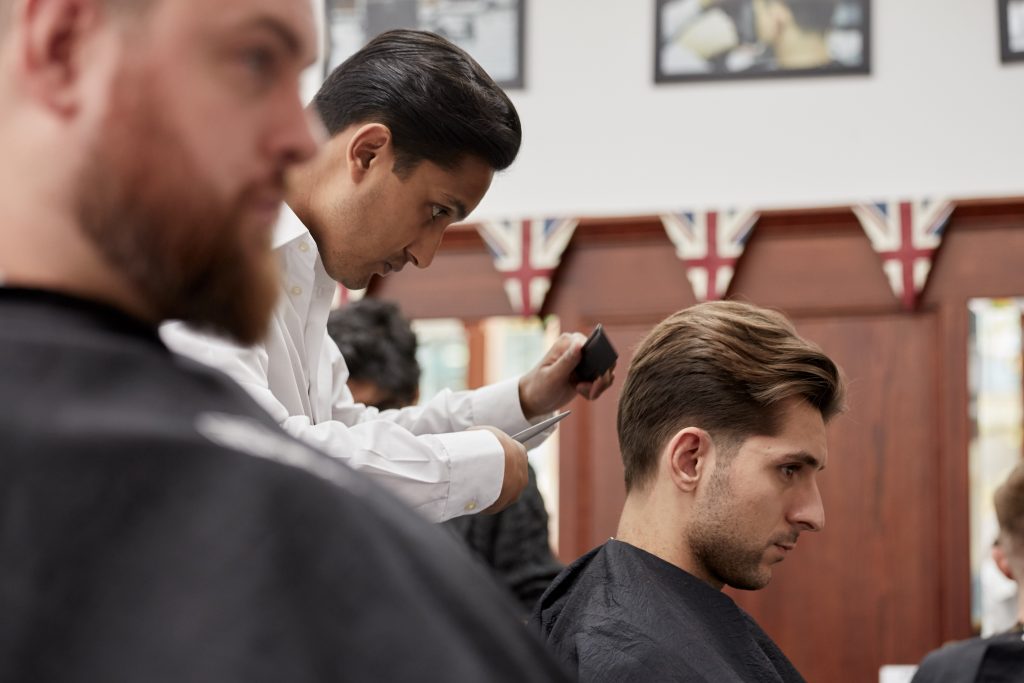 Shaving – Pall Mall Barbers Birmingham – Best Barbers Birmingham
As mentioned, the classic wet shave is one of our star services because we've been doing it for so long and refined it to perfection. Nothing beats the feel of our luxurious foam and the refreshing swipe of our sharpened blades, as they groom your face to perfection. You'll feel rejuvenated, reenergised and ready to roll!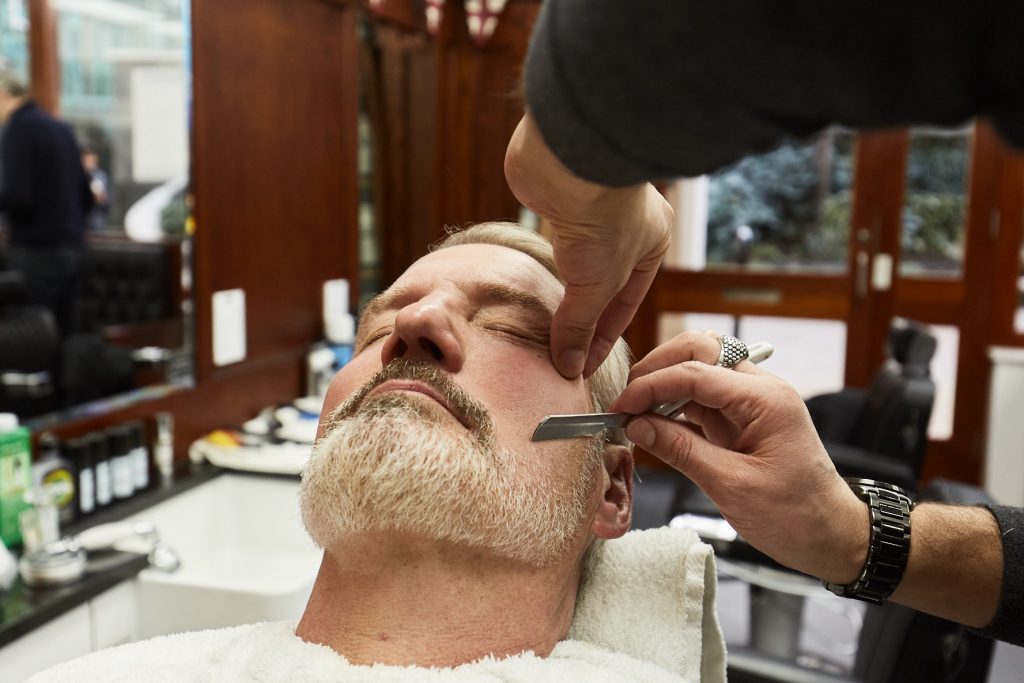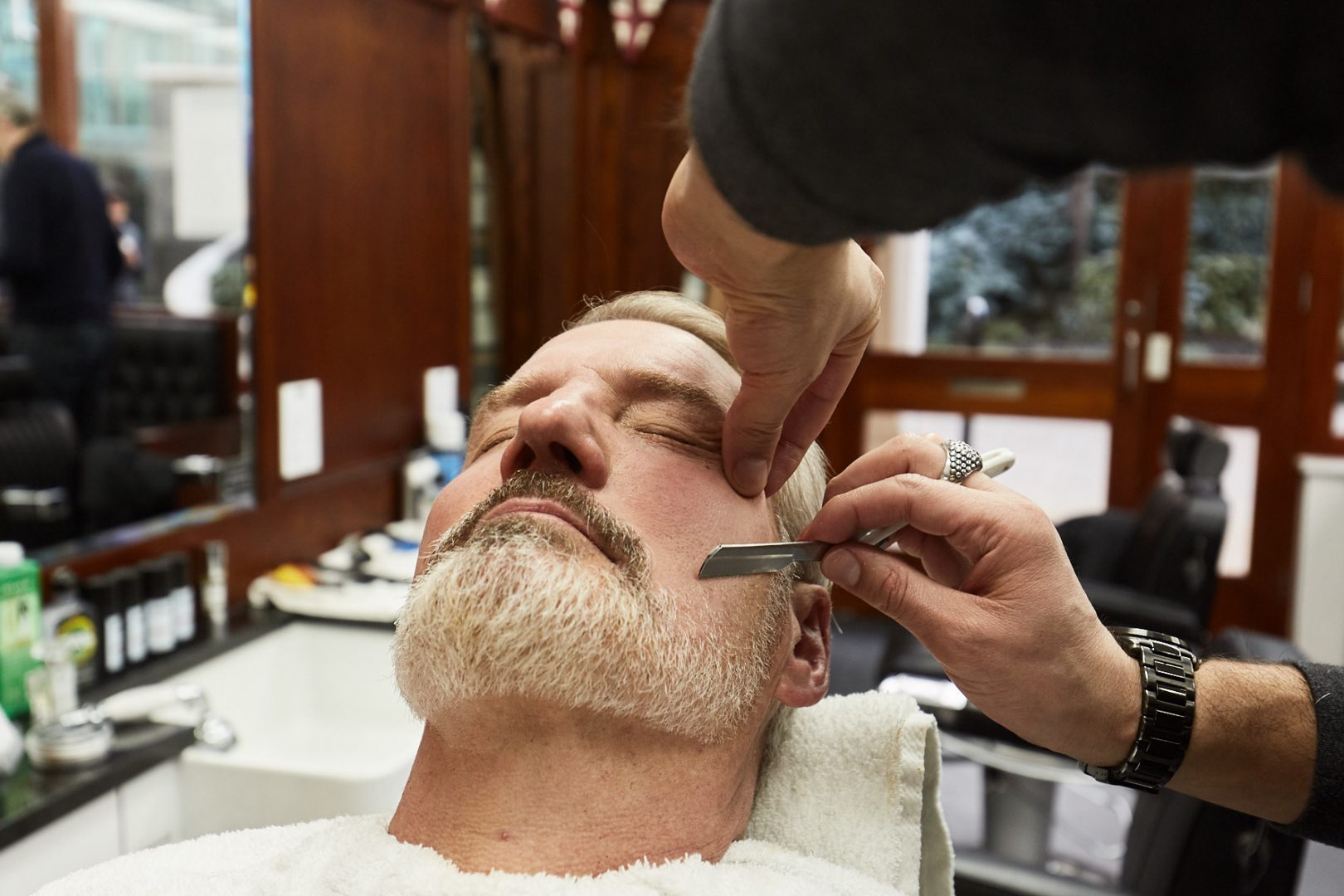 Barber, Barbers, Barber shop , Barber shop near me , Barber near me , Barber shop near me , Barber Birmingham , Barber shop Birmingham, Barber Birmingham City Center, Best barber near me, Men's barbers near me ,barbers near me,barbers Birmingham , barbers open near me ,barbers in Birmingham , barber shops near me , Birmingham barbers ,barber shop
Pall Mall Barbers Birmingham Location
Pall Mall Barbers Birmingham Address: Level 1, 6 Wharfside St, Birmingham B1 1RD